What are the Stormzy 'Vossi Bop' lyrics, what do they mean and was Idris Elba in the music video?
26 April 2019, 12:09 | Updated: 29 April 2019, 09:05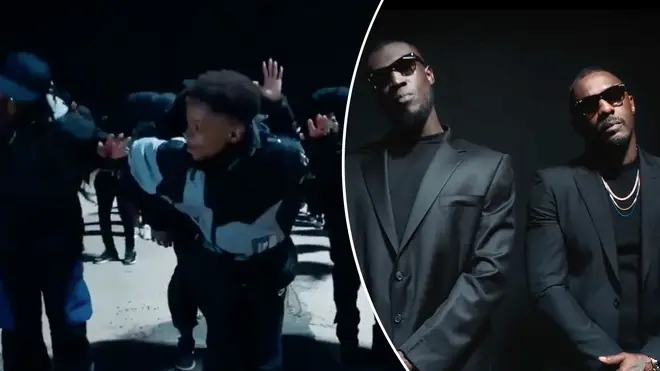 Stormzy has dropped his brand new single 'Vossi Bop' ahead of his 2019 album - but what is the meaning behind the lyrics? What is the Vossi Bop dance? And did Idris Elba make a cameo?
Stormzy is back with a brand new single 'Vossi Bop', the lead track from his hotly-anticipated follow-up album to 2017's 'Gang Signs & Prayer.'
Produced by British producer Chris Andoh, the song hears the 25-year-old MC rap about how far he's come in the game, while the accompanying music video pays homage to his hometown of London.
But what do the lyrics to 'Vossi Bop' mean? What is the 'Vossi Bop' dance? And are there any celebrity cameos in the video?
What does 'Vossi Bop' mean?
The 'Vossi Bop' is a viral dance created by Twitter user @NL_Vossi back in 2015. The dance involves leaning forward and bopping to the beat of the song you're listening to.
Stormzy teased the song away back when the viral meme first surfaced, and fans have been waiting for it ever since.
"It was just so infectious, and such a genuine joyous moment that for whatever reason, I went studio a couple weeks later, and I made this song called 'Vossi Bop'," Stormzy explained in an interview.
"This is like three years ago, 2016... Or 2015. And yeah, I just had the spirit of Vossi in me," he added. "I think it just embodies everything that I'm about. The confidence, the humor, the style, the flair, the anarchy, the chaos, just the vibe."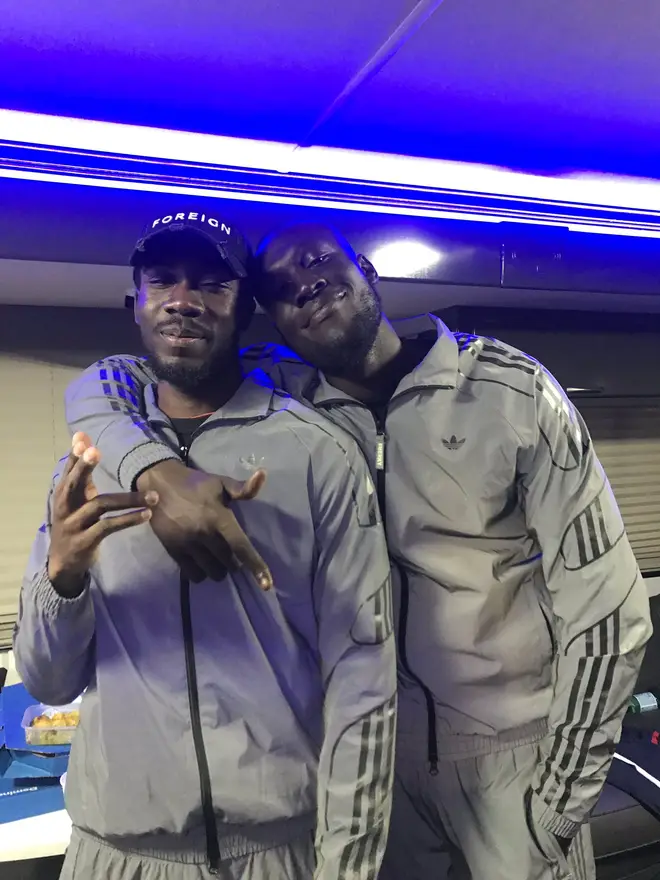 Is Idris Elba in the music video?
The music video sees Stormzy take over iconic London landmarks including Westminster Bridge, Silvertown Square and the Bank of England in central London.
It also features a surprise cameo from British actor - and 'Boasty' rapper, of course - Idris Elba. Stormzy actually has a lyric about Idris in 'Vossi Bop':
"When I'm James Bond, tryna live my movie like I'm Idris," he says. In the video, Stormzy and Idris stand next to each other nodding to the beat, both wearing all-black suits and black sunglasses.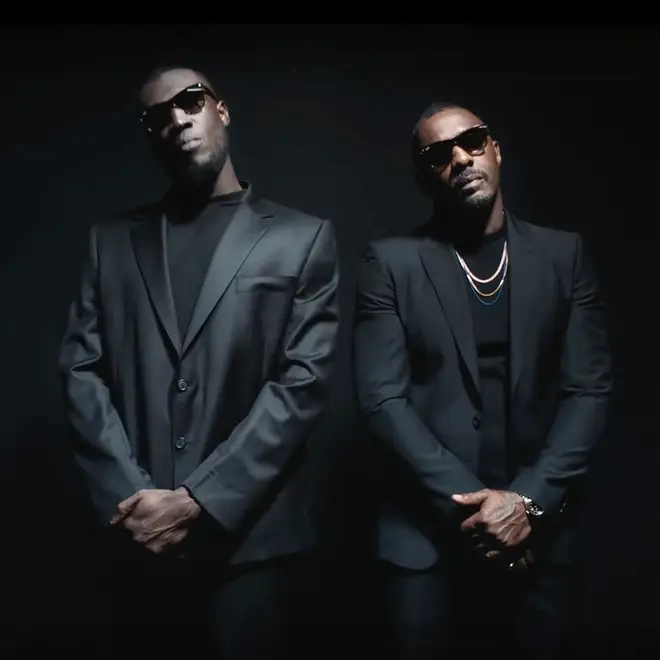 What are the Stormzy 'Vossi Bop' lyrics?
(CHORUS)
My bruddas don't dab, we just Vossi bop
I tell your girl to link me at the coffee shop
Getting freaky in the sheets, we're takin' body shots
Then I finish with a facial just to top it off (Ay)
My bruddas don't dab, we just Vossi bop
I tell your girl to link me at the coffee shop
Getting freaky in the sheets, we're takin' body shots
Then I finish with a facial just to top it off (Ay)

(VERSE 1)
You ain't got a clue, let's be honest
I had a couple seeds, I made a forest
I put in the work and take the profit
Lookin' at my girl like "What a goddess" (Thank God)
Rule number two, don't make the promise
If you can't keep the deal then just be honest (Be honest)
I could never die, I'm Chuck Norris (Chuck Norris)
F**k the government and f**k Boris (Yeah)
I'm a villain, killin' when I'm barrin'
Brothers in the hood just like the movie that I star in
Servicin' my whip, I phoned the boss to bring my car in
I could probably take your chick, but I just wouldn't 'cause she's jarrin', oh
I got the sauce (Sauce), don't know what you thought (Thoughts)
Catch me up in the snow in my sliders and my shorts (Shorts)
Chicks tryna get my brother Flipz to share his thoughts
I think he's tryna tell me I should tell her he don't talk
I don't f**k with her
Yeah, I used to hit it but you're stuck with her
Man, I wouldn't even try my luck with her
Gyal say I'm bougie (Word), way too exclusive (Word)
Chillin' in Dubai know I get it all inclusive (Word)
Now may I ask if you can find it in your spirit (Yeah)
To leave us all alone and go and mind your f**kin' business
Lookin' in the mirror sayin', "Mikey, you're the illest" (Yeah)
When I'm James Bond, tryna live my movie like I'm Idris
So we telling 'em look

(CHORUS)
My bruddas don't dab, we just Vossi bop (Ay)
I tell your girl to link me at the coffee shop (Ay)
Getting freaky in the sheets, we're takin' body shots (Ay)
Then I finish with a facial just to top it off (Ay)
My bruddas don't dab, we just Vossi bop (Ay)
I tell your girl to link me at the coffee shop (Ay)
Getting freaky in the sheets, we're takin' body shots (Ay)
Then I finish with a facial just to top it off (Ay)

(VERSE 2)
My bruddas don't dab, we just Vossi bop
So much Vossi I might open up a Vossi shop
Mummy sayin' that I need to get some sleep
All this flyin' overseas is always f**kin' up my body clock
And all this stress has got me wrackin' at my brain (Ay ay)
So tell these likkle fishes back up off my name (Ay ay)
I ain't gotta be a rapper with a chain
Cah the rules are kinda different when you're baddin' up the game (Straight)
Baddin' up the game, bad it up again (Yeah)
Had 'em up before, have 'em up again (Yeah)
Fake bruddas, man, your mandem will pretend (Yeah)
Pussy by himself, he's battlin' with his friends
Aww, you man are so insecure, man it's a joke (Man it's a joke)
I need a girl in Dior 'cause I'm the GOAT (Still the GOAT)
If you believe in your source then raise a toast (Raise a toast)
These are some genius thoughts so make the most
Told her "Save me some"
I need all the homage, could you pay me some?
Man a droppin' bangers on your baby mums
Gyals say I'm rude (Word), they wanna see me nude (Word)
My name stiff chocolate, I got nothing left to prove
I got holes in my lapel, rubbin' shoulders with your girl
Which one of **** said that I would go to jail? (Wah?)
Well, I guess you have to hold a L
Tell 'em "This is London city, we the hottest in the world"
What we tellin' em? Look

(CHORUS)
My bruddas don't dab, we just Vossi bop (Ay)
I tell your girl to link me at the coffee shop (Ay)
Getting freaky in the sheets, we're takin' body shots (Ay)
Then I finish with a facial just to top it off (Ay)
My bruddas don't dab, we just Vossi bop (Ay)
I tell your girl to link me at the coffee shop (Ay)
Getting freaky in the sheets, we're takin' body shots (Ay)
Then I finish with a facial just to top it off (Ay)
(Lyrics from Genius)