Stormzy Performed At "Real Life Friend" Adele's Birthday Party & It Looked Lit
13 July 2018, 14:42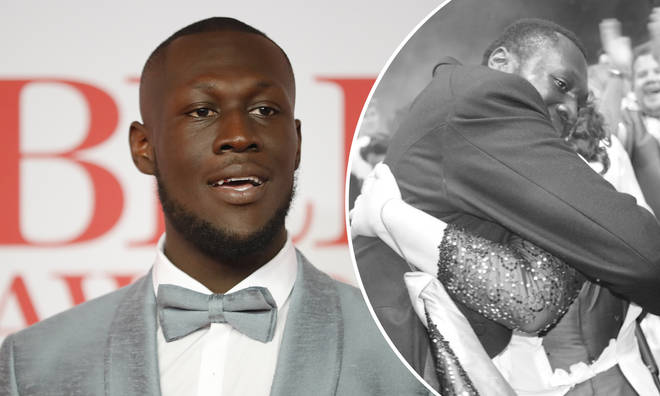 You're never too big for Adele.
Stormzy just posted the ultimate throwback by reflecting on his performance at Adele's birthday party.
The 'Hello' songstress celebrated her 30th birthday back in May with a Titanic-themed fancy dress party, and Stormzy was on hand to provide the music.
Sharing a few snaps from the night, the 'Big For You Boots' rapper reflected on "best night of [his] entire life". One picture sees Adele throwing gun fingers in the air, while another sees the pair sharing a warm embrace.
James Corden also features in the shots, clapping excitedly in the background as Stormzy and Adele tear up the dance floor.
"WORDS WILL NEVER BE ENOUGH FOR THIS CAPTION BUT #TBT to the best night of my entire life," he wrote. "Came out and surprised my friend Adele at her birthday party."
"If you know me you know what this meant the absolute world to me. BEST NIGHT EVER. #WordsCantDescribe #StillBuzzing #YesThatIsAdeleDoingGunFingers #DidYouClockHowISaidMyFriendAdele #YesThatsMyRealLifeFriend #WhatHasLifeBecome #ThankYouGod"
The party was also attended by the likes of Alan Carr, Corden and a whole host of celebrity guests, but it's the first time that Stormzy has confirmed that he performed at the event.
Adele and Stormy have been friends for a few years now. She shouted him out during one of her shows at the O2 in 2016, before being spotted rapping along during Stormzy's show in Brixton last year.