Rihanna Recreates Famous 'Psycho' Shower Scene On 'Bates Motel' & Fans Can't Cope - WATCH
29 March 2017, 10:26 | Updated: 29 March 2017, 10:36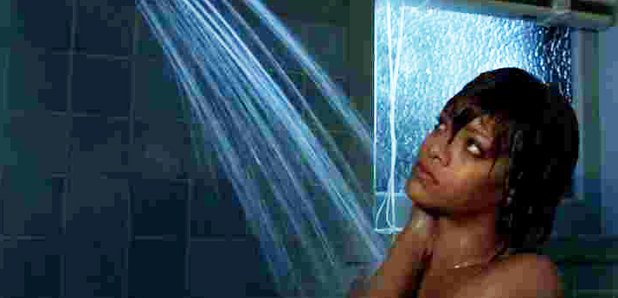 RiRi showed off her acting skills.
Rihanna recreated a classic shower scene from movie 'Pyscho' during her second appearance in TV series 'Bates Motel'.
The ANTI singer, who guest starred as character Marion Crane, revived the role made famous in Alfred Hitchcock's 1960's film.
Watch below:
Phewwww, Marion just dodge that death #InsideBates #BatesMotel @rihanna pic.twitter.com/Mb0eVnss8W

— Athena (@Athena0089) March 28, 2017
After stealing a suitcase full of money, Rihanna is seen taking a shower while Norman Bates spies on her.
In the classic scene from 'Psycho', Crane is murdered in the shower.
However 'Bates Motel' took a different approach, with RiRi stepping out of the shower and saying "Screw that sh*t".
Fans shared their excitement while watching the events unfold.
When they killed Sam in the shower instead of Rihanna! #BatesMotel pic.twitter.com/TNNVIQhfm9

— Keyoncé (@_kennibh) March 28, 2017
They went for the man in the shower stabbing death! Good! We didn't want to see Rihanna chopped up like that. #BatesMotel

— Wayne Pittman, Jr. (@Sony12Play) March 28, 2017
Me watching Rihanna shower like #BatesMotel pic.twitter.com/O7NT8PCRuI

— Michael (@michaelcollado) March 28, 2017
Omg, is Bae really going to make it?!?! @rihanna #BatesMotel pic.twitter.com/VUKtV3f565

— Athena (@Athena0089) March 28, 2017
Meanwhile, Rihanna had fans excited after her debut in Bates Motel last week.
The singer filmed herself watching the show via Instagram Live and took shots of tequila during her sex scene.
It's not currently clear whether Rihanna will return for any other scene-stealing cameos during the remainder of the series.