Is Rihanna pregnant with A$AP Rocky's baby? Fans speculate the pair are expecting first child
25 January 2022, 17:04 | Updated: 31 January 2022, 15:43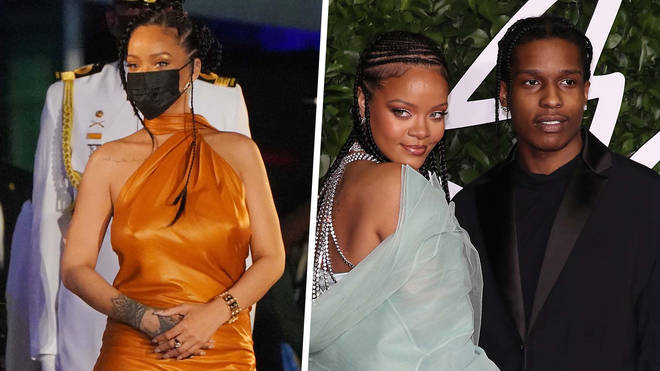 Fans have sparked rumours that Rihanna and A$AP Rocky are expecting their first child together.
Rihanna and A$AP Rocky have confirmed the long-running rumours - they are expecting their first child together!
In early November, after news spread about Rihanna officially being declared a Barbados national hero, fans suspected that the 'Work' singer was pregnant.
Two months later, Rihanna debuted her bump to the world and we couldn't be happier for the couple.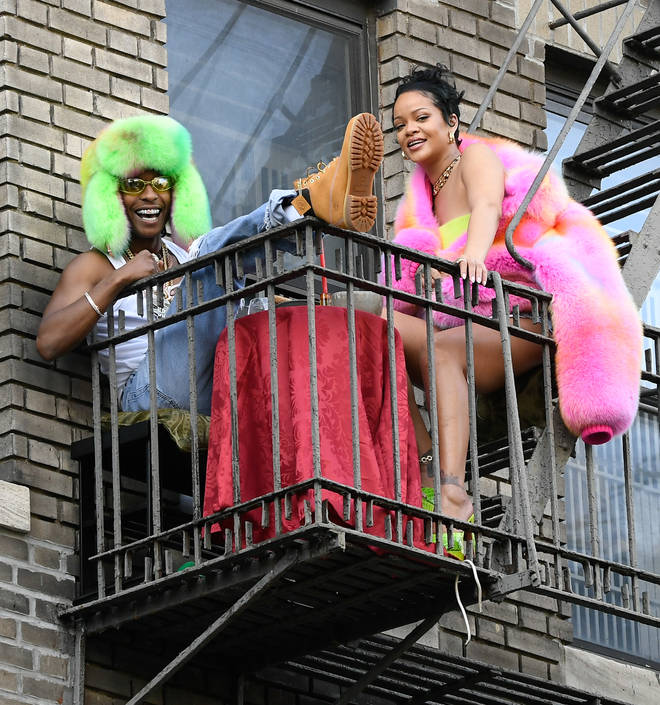 Why did people think Rihanna is pregnant?

Fans sparked rumours that Rihanna and A$AP Rocky may be expecting their first child together after photos of the singer from a Barbados event went viral.

Rihanna was honoured by Prime Minister Mia Mottley at an event – where she was declared as a national hero.

Rihanna attends the Presidential Inauguration Ceremony at Heroes Square on November 30, 2021 in Bridgetown, Barbados. Picture: Getty

The news came as Barbados got the new status as a republic, after the Queen was officially removed as its head of state.

Photos of Rihanna covering holding her hands together below her stomach circulated online, with many fans speculating that she was trying to hide her baby bump.

Rihanna honoured as a national hero at the Presidential Inauguration Ceremony. Picture: Getty

A verified Twitter page, by the name 'The Academy' tweeted: "Rihanna is pregnant with her first child with A$AP Rocky."

Many fans quote tweeted the post, spreading the news.

Rumours that Rihanna was pregnant were re-ignited on Wednesday (Jan 19) when she was spotted out with BF A$AP Rocky.

The pair went out for a dinner at Carbone in New York City. Photos of the couple emerged online, with many fans speculating that the star is pregnant.

Fans pointed out that Rihanna has been spotted in massive coats, to presumably disguise her baby bump.

In the photos, the singer was pictured in an oversized black leather jacket.

One fan wrote: "For once i feel like she just might be pregnant" while another added: "Ima cry she really pregnant out here in these streets".

A third fan wrote: "Telll us she pregnant without telling us she pregnantttt".

What did fans say about the pregnancy rumours?

While some fans are convinced that Rihanna is pregnant, others have claimed that there have been rumours of Rihanna being pregnant several times over the years.

See reactions below.

What did Rihanna's best friend say about the rumours?

Rihanna's best friend Melissa, has responded to rumours she confirmed the singers pregnancy.

The Neighborhood Talk posted about the rumours and screenshotted that Melissa Forde "liked" their post.

She then responded to their screenshot, writing: "[Crying laughing emojis] guys this is a high ass moment wtfff," wrote Forde in the comments.

"How y'all gon set me up like that? You know I'm not with the messy sh*t carry on guys nothing to see here."

Rihanna nor A$AP Rocky have addressed the rumours.