35 Rihanna Lyrics For When You Need A Badass Instagram Caption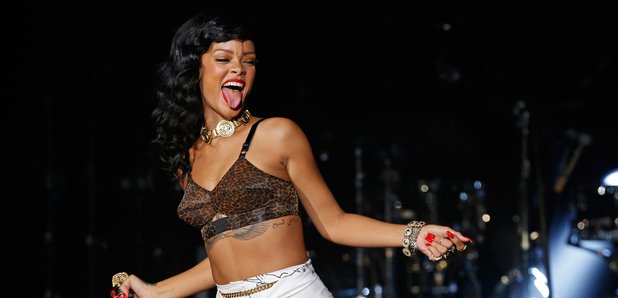 From selfies to squad pics, Bad Gal's got you covered.
When it comes to fierce lyrics and sassy quotes, who better to turn to than R&B's beloved rebelle fleur?
Rihanna takes things to the next level with her fearless one-liners, so we've compiled a definitive list of her most badass, Insta-worthy lyrics.
Check out RiRi's best captions below:
On Confidence
You know I got the sauce, you know I'm saucy - 'Sex With Me'
Walk up in this b*tch like I own the h*e - 'Phresh Out The Runway'
Didn't they tell you that I was a savage? - 'Needed Me'
Tougher than a lion / Ain't no need in tryin' - 'Hard'
All you need to know that I'm a 2 times 5 / Load it, cock it, aim it, baby, boom bye bye - 'Raining Men'
I got to do things my own way darling - 'Consideration'
Looking so bomb, gonna find me a honey - 'Cheers (Drink To That)'
F**k ya white horse and ya carriage - 'Needed Me'
On Par
tying
White girl wasted on that brown liquor - 'Wild Thoughts'
Four o'clock and we ain't going home - 'Pour It Up'
Turn up to Rihanna while the whole club f***ing wasted - 'B*tch Better Have My Money'
I think I've had enough / Might get a little drunk - 'FourFiveSeconds'
Rocking this club / Got my middle finger up - 'Rockstar 101'
I'm too lit to dim down a notch - 'Wild Thoughts'
Patron shots can I get a refill? - 'Pour It Up'
On Haters
Stay up off my Instagram, pure temptation - 'Sex With Me'
All my haters so so broke, pipe down - 'Pose'
I'm kicking ass, I'm taking names - 'Breakin' Dishes'
Get dem haters out your circle - 'Dem Haters'
Think I give a damn, boy don't you know who I am? - 'Jump'
Go on, begone, bye bye, so long - 'Fading'
On Money
My pocket's deep and they never end - 'Pour It Up'
Pay me what you owe me / Ballin' bigger than LeBron - 'B*tch Better Have My Money'
I'ma wake up and just hug this money - 'Nothing is Promised'
All I see is dollar signs - 'Pour It Up'
Got a drink on my mind and my mind on my money - 'Cheers (Drink To That)'
On Love
She may be the queen of hearts, but I'm gonna be the queen of your body parts - 'Cockiness'
Diamonds ain't nothing when I'm shining with you - 'Wild Thoughts'
I'm fist fighting with fire just to get close to you - 'Love On The Brain'
If you want, we could be runaways running from any sight of love - 'Desperado'
On Your Squad
I bet you wanna know what my crew about - 'Phresh Out The Runway'
I'm going dumb with all my friends - 'Pour It Up'
Said I'll always be your friend / Took an oath Ima stick it out to the end - 'Umbrella'
Might be mad in the morning but you know we goin' hard tonight - 'Cheers (Drink To That)'
My b**ches so Bvalgari - 'Phresh Out The Runway'