20 Of The Best Rihanna Songs
18 September 2018, 15:01 | Updated: 18 September 2018, 15:06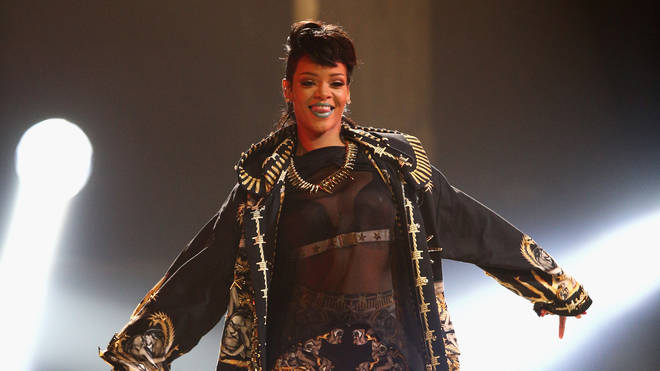 From the early days of 'Umbrella' to the late chart-topper 'Work', and ballads like 'Stay' to the island-tinged 'Man Down', you can't go wrong with a classic Rihanna song.
Rihanna songs are brilliant because there's a song for every mood.
There's a song for when you're happy ('Umbrella'), sad ('Stay'), want to turn up ('Work'), want to get over an ex ('Love On The Brain') and there's even one for when you want to get that cheque back from someone that owes you ('B*tch Better Have My Money'). So yeah, it's safe to say that Rihanna's discography is a definitive vibe.
Considering Bad Gal Riri's dropped hit after hit since her inception in 2005 and the fact that we really just love her, it was extremely hard to narrow this list down to just 20 of our favourite Rihanna songs and yes this was hard.
So, in no particular order, here are some of Rihanna's best songs.
Work ft. Drake
Released in 2016, Rihanna went back to her Caribbean roots for this summer anthem that was literally the anthem for the year. If you ever needed a reminder about why she's called Bad Gal Riri this song was it. Featuring Drake you know that when these two get together it's always a vibe.
B*tch Better Have My Money
Rihanna doesn't play when it comes to her money, it's probably why she's amassed a juicy net worth of $245 million. This is the ultimate anthem for when someone owes you money. Don't ask for it, just play this song.
Man Down
This song is about Rihanna confessing about shooting a man down in front of a "big ol crowd" even though she didn't mean to hurt him. So you probably don't wanna mess with Riri.
We Ride
If you're going through a breakup this is the song that'll have you reminiscing on what should have, could have, would have...
Break It Off ft. Sean Paul
Anything Sean Paul touches turns into gold so of course when he jumps on a track with Rihanna you know it's going to be sick. We dare you to listen to this song and not start dancing.
Te Amo
This song seems to document Rihanna's conflict as she struggles to accept the sexual advances from a woman that claims to really love her, in Spanish. Riri showed how she wasn't afraid to push boundaries.
Pour It Up
Rihanna's got tunes for when you want to release your inner bad b and this is one of those songs. This is the song you put on when you want to have a twerk fest.
Where Have You Been?
If there's ever a list of the most karaoke-friendly Rihanna songs then this is one. We dare you to sing along to this song and not sing it from the top of your lungs.
Desperado
This song has a distinct beat that makes you wanna bop your head to the beat with your cowboy swag on. It'll have you wanting to "sit in a old Monte Carlo."
Hate That I Love You ft. Ne-Yo
This song saw Riri and Ne-Yo go head to head singing their hearts out about how much they hate that they loved each other. Can't relate.
S & M
Rihanna's a naughty girl and she's proud of it as she declares on this track "Cause I may be bad but I'm perfectly good at it / Sex in the air, I don't care, I love the smell of it / Sticks and stones may break my bones / But chains and whips excite me." This song showed that Riri had definitely dropped the good girl persona.
Unfaithful
This song is exactly what's on the tin. Rihanna is upset that she's been cheating on her partner and feels like she's killing him inside by being unfaithful because he knows exactly what's going on. This one's a downer…
Pon De Replay
This was Rihanna's debut single released in 2005 when Riri was just 17 and this was way before this good girl went bad. A refreshingly upbeat song that will never get old.
If It's Lovin' That You Want
Classic Riri, this song is a real party starter. Turn up this tune when the sun's out and live your best life.
Rude Boy
Everyone and their nan was dancing to this song when it came out back in 2009. Anywhere you went, this song was playing. Rihanna was able to show off her bad ass whining skills and gave us all a lesson in how to be a bad gal.
What's My Name?
'What's My Name?" song was the first time Drake and Rihanna collaborated and since then anytime they've come together you know it's going to be a vibe.
Needed Me
Anytime you need a reminder about how badass you are just put this on and get out of your feelings, quick.
Wild Thoughts
Okay this song is technically DJ Khaled's song and just features Rihanna however she owns it and it's basically her song. Okay? This tune got nominated for all the awards and then some and shuts it down. Every. Time.
Only Girl In The World
Riri's a woman that knows exactly what she wants and she's not embarrassed to make a song about it. So if you're not gonna make our Riri feel like "the only girl in the world," you can close the door on your way out.
Don't Stop The Music
An absolute feel good tune that you might have found sounded familiar because Rihanna sampled the famous 'mama say mama sa mama coosa' from the 1982 Michael Jackson classic "Wanna Be Startin Somethin.'"