Who Are Nicki Minaj's 'Dip' Lyrics About?
30 October 2018, 11:43
Who is the 'Queen' rapstress talking about in the new version of Tyga's song 'Dip'?
Nicki Minaj has jumped on the revised version of Tyga's latest banger 'Dip', and the lyrics have got people talking.
Following the success of his previous singles 'Taste' and 'Swish', T-Raww has taken his latest single to the next level in an effort to keep his successful comeback on the rise.
The rapper enlisted the help of 'Queen' rapstress Nicki Minaj to add some sparkle to the track - but who is Minaj talking about on the song?
Well, for starters, Nicki appears to reference her ongoing beef with Cardi B - and their infamous altercation at New York Fashion Week during the Harper's Bizarre Icons Party.
Check out the lyrics below.
"Yeah I'm pulling your card though, got him calling me Ricky
All these b**ches my minis, got 'em calling me Mickey"
All that rah-rah never was the icon issue
Harper's Bazaar, I'm covering the icon issue
I got issues, yeah b**ch, I got issues
W, Vogue, Cosmo - I got issues"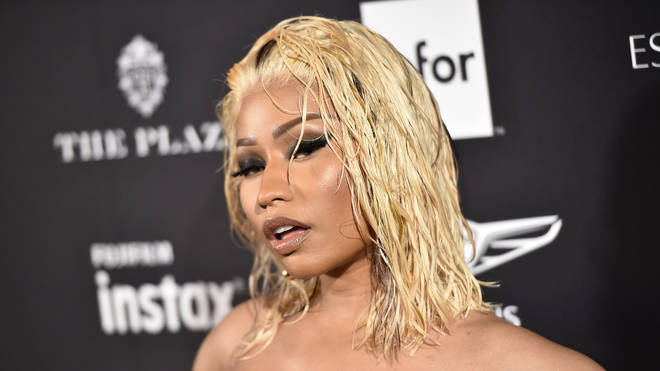 The second line sounds like Nicki is calling out women who've been copying her style, while the following two bars are a direct reference to her fight with Cardi - the "icon issue" - last month.
In the last two lines, Nicki appears to suggest that the only "issues" she's concerning herself with right now are the magazine kind, pulling out the names of publications she's recently graced the cover of.
Judging by the last two lines of the song, it isn't just Cardi that Nicki is ready to call out. The 35-year-old rapper gives a nod to Drake after he possibly dissed her on his new song with Quavo, 'Flip The Switch'.
"She wanna hang when the album drop, that's timely," Drake spits on the track, taken from Quavo's new album. Around the time of her new album 'Queen' being released, Nicki posted a video of herself with Drake in the studio.
The pair aren't seen in the public eye together very often, so Drake is alluding to the idea of Nicki potentially using him for promotion. However, Nicki fired back on 'Dip'.
"All these niggas want me to love 'em like I'm Kiki
Got 'em in they feelings since they seen me in FEFE"
The 'Kiki' line is a reference to Drake's viral hit 'In My Feelings', while 'FEFE' is the name of Nicki's collaboration with Tekashi 6ix9ine.