Nicki Minaj Slammed By Fans After "White Media Over Black Media" Tweet
6 November 2019, 17:56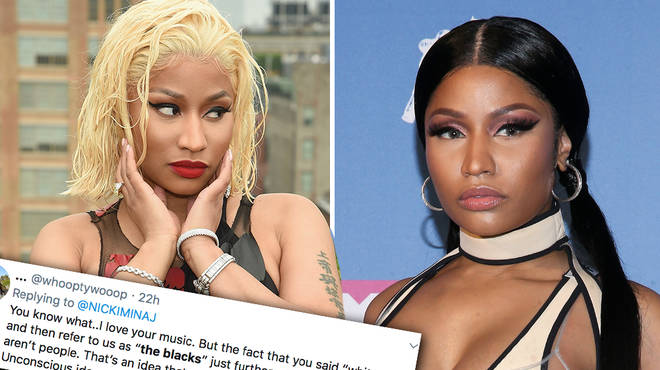 Rapstress Nicki Minaj is facing backlash after she tweeted a derogatory tweet where she "picks white media over black media".
Nicki Minaj recently landed herself in a predicament with her fans after claiming she picks white media over black media.
The now-deleted tweet came after E! Nightly Pop reported on Nicki's ongoing feud with Wendy Williams. In the video that the news outlet reported on, Nicki was talking about Wendy's estranged husband, Kevin Hunter.
The 36 year-old rapstress took to Twitter to praise E! on how they reported on the story, while disapproving with how "black media" report stories on her.
"What the white ppl post. >>>>>> The blacks only post the few seconds where I raise my voice to push their narrative. 😉😛😘 #QueenRadio is back in a few days. Stay tuned," Nicki wrote on Twitter.
After fans caught onto the post, responses began to pour in from people who believed Nicki was speaking disparagingly about black people and praising white people.
Others, however, noted that Nicki was only speaking about the media, while some agreed with her sentiments outright. 
"Nicki Minaj been hating and bashing black people all year. But y'all gonna slide past right over this and go back hating on cardi next week because some white kids on stan twitter told y'all to 🤷🏾‍♂️," one person wrote.
See other fans comments below.
You know what..I love your music. But the fact that you said "white ppl" and then refer to us as "the blacks" just furthers the idea that "blacks" aren't people. That's an idea that goes wayyy back. I'm mad hurt. Unconscious ideas are a mf. You gotta be aware of what you saying.

— ... (@whooptywooop) November 5, 2019
Uplifting white media over "the blacks", as if she isn't black and didn't get her start off of black media and fans. And the two shows in the clip can't be compared, as they were discussing two different things

— Dom Foolery (@TheeDWil) November 5, 2019
Cardi called SOMEONE a roach and y'all refered to her as racist. Nicki Minaj referred to us as "the blacks" and she is being praised. Chileee lol

— S E P T 10 ♍ (@_ManiacMcGee) November 6, 2019
See now you're back to placing the blame on us, gossip is a thing every single race partakes in, there's no pin point to where this started so it's not fair to say that "the blacks" started the trend when the first newspaper/ magazine was made by the white people

— ⁶𓅓 🇵🇷 (@saqueena09) November 6, 2019