Is Nicki Minaj Dating Lewis Hamilton?
24 September 2018, 17:32 | Updated: 24 September 2018, 18:21
Are they really in a relationship?
Nicki Minaj has sparked fresh rumours that she is dating Formula One star Lewis Hamilton, following their recent appearance in Abu Dhabi together.
The pair who have been spotted together in the past, shared some flirty exchanges on Instagram over the weekend.
Nicki Minaj posted a video of herself speaking to Lewis Hamilton on a beach at night.
"AbuBarbie Dubai," she captioned the video of herself doing a London accent.
Watch the footage above.
Eagled-eyed fans also spotted Lewis Hamilton in a mirror filming Nicki Minaj, in what appears to be a hotel.
The pair were also caught on camera walking through the hotel.
In a now-deleted Instagram post, Nicki Minaj appeared to draw attention to Lewis Hamilton in the comments section.
She appeared to reply to the F1 star with an anguished emoji and a laughter emoji.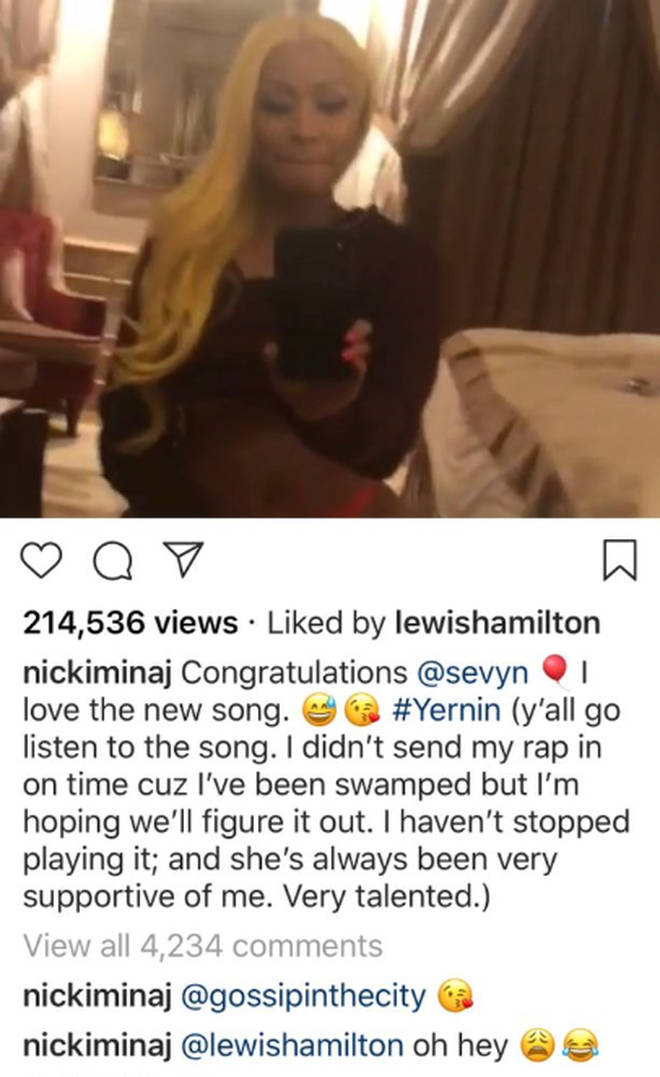 After seeing footage of their trip to Dubai, fans took to Twitter to speculate.
Nicki Minaj & lewis Hamilton make an awful couple they don't suit at all🤢

— cookie (@PrettyyCookie) September 24, 2018
Lewis Hamilton is now doggying Nicki Minaj. Bad man lol

— DONT BELIEVE U OUT NOW (@LethalBizzle) September 24, 2018
Lewis Hamilton and Nicki Minaj are not a thing. I refuse to believe.

— P/TU (@peetoooo) September 24, 2018
Nicki Minaj and Lewis Hamilton 😩♥️♥️ I've never been this excited for my own self. I'm such a fan 🤣 we're all in that relationship together 😩 I can imagine all that British accent in her ears 😭 oi!

— Miss Firefly 🌟 (@Bobollicious) September 24, 2018
Wait, Nicki Minaj and Lewis Hamilton are actually trying to be a thing? I can't really see it but okayyyyyyy!

— Nola Marianna Ojomu (@NolaMarianna) September 24, 2018
Nicki Minaj recently confirmed to Ellen DeGeneres that she has a new man in her life, following her publicised split from Meek Mill.
"Well, there was a new boy but he and I kind of fell back a little bit. And then…" she told during the interview this month.
"And then there's a newer… yeah, fairly new. He's been around for a couple wigs. But I don't have a boy."
Nicki Minaj and Lewis Hamilton are yet to comment on any of the speculation.