Nicki Minaj Announces Joint European & US Tour With Future
11 June 2018, 16:28 | Updated: 25 July 2018, 14:33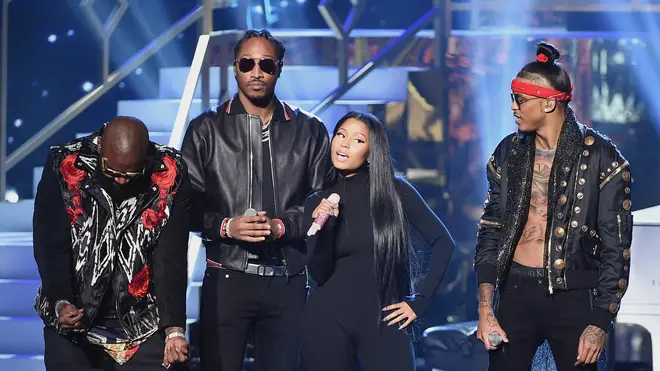 The NICKIHNDRXX Tour kicks off in September.
UPDATE - 25/07/18
Tekashi 6ix9ine will be joining Nicki Minaj and Future on their upcoming joint tour.
The 'Gotti' rapper is one of three openings acts that will appear on the 51-show tour, which will taken them across North America and through to Europe.
The other two artists on the tour are yet to be confirmed. Tekashi recently appeared alongside the 'Chun-Li' rapper on her latest single, 'FEFE'.
Some fans weren't too happy with the rapstress's decision to include Tekashi in the roster.
"Whyyyyyyy did @NICKIMINAJ choose tekashi 69 to bring as a guest on tour," wrote one fan, "literally the last person I want to see perform."
"Nicki Minaj literally added Tekashi 69 to her and Future's tour...I am so sad bc I don't really want to go anymore," said another. "I would have preferred Ariana Grande or anybody else really."
The tour kicks off in September.
11/06/18
Nicki Minaj has announced her joint tour with Future, the 'NICKIHNDRXX Tour'.
The tour will cover both North America and Europe including dates in London, Dublin, Birmingham, Glasgow and Manchester.
The North American leg of the tour kicks off on 21st September 2018 in Baltimore, while the European stint kicks off in Munich on 21st February. The UK dates are as follows:
- 11th March - London
- 14th March - Birmingham
- 15th March - Dublin
- 17th March - Glasgow
- 18th March - Manchester
"I can't wait to see you all on the NICKIHNDRXX TOUR with Future!" she wrote on Instagram with a slew of fire emojis, before divulging details of the set list on Twitter.
I'll be doing a full set of #Queen & older material so I guess, yes, if you'd like to think of it like that. My fans AND his fans will get exactly wtf they came for and THEN SOME! I'll just leave it at that. Cuz this tour >>>>>>>>>>>>>>>> like y'all rlly have no fkng idea 👅🙈🔥 https://t.co/s7Tr0Awq18

— Chun-Li (@NICKIMINAJ) June 11, 2018
Presale starts tomorrow at 10am, while the public sale kicks off on Friday (15th June) here.
Keep checking back on this page for more updates.