Nicki Minaj Admits She Lied About Her Adele Collaboration
17 October 2019, 13:59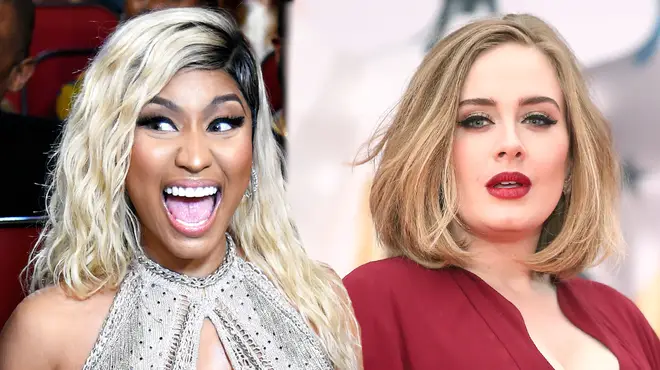 New York rapper Nicki Minaj has backtracked on her claim that she had collaborated with London singer Adele.
Nicki Minaj has backtracked on her word. The 36-year-old rapper has now denied that she has already collaborated with London singer Adele.
On Tuesday (Oct 15) The "Megatron" rapper told ET that she 'shot a video' for 'an epic song' with 15-time Grammy winner Adele.
However, Minaj took to Twitter and said she was being 'sarcastic' when she spoke about the Adele collaboration.
The following day after her Adele collaboration claims, several publications reported on it. A fan account took a screenshot of several headlines and wrote "Even if you were joking now you have to do the collab @NICKIMINAJ everyone is excited".

Nicki responded to the fan account, writing 'Omg guys. I thought everyone could clearly see I was being sarcastic,'.
Minaj continued 'S***! Now I have to go to Adele's studio & steal some files. Who's in the UK? I got a job for you.'  
The star has been known to backtrack on her word recently, which is why some fans didn't believe the collaboration claims in the first place. On Sept 5, Minaj tweeted that she was deciding 'to retire & have my family.'
However, 20 days later she then dropped a track with PNB Rock and Murda Beatz.
Would you be here for a Nicki Minaj and Adele collaboration ?