Kanye West's 'Famous' Video Is Now Available To Watch On YouTube
1 July 2016, 17:55 | Updated: 1 July 2016, 17:58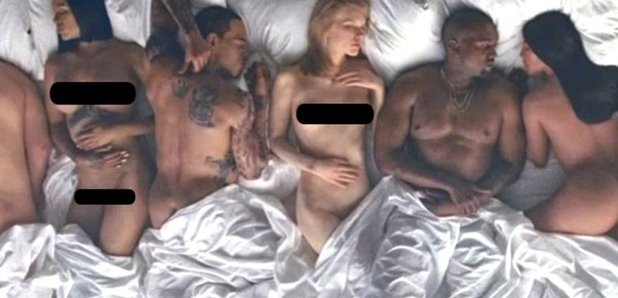 Rihanna, Taylor Swift and Chris Brown all appear to be in it.
Update
Kanye West has put the official video for 'Famous' live on his YouTube page, meaning it's now available to stream for free.
The video features waxworks and lookalikes of celebrities including Taylor Swift, Kim Kardashian and Amber Rose, who are all sprawled out naked in a large bed.
Watch the official video for 'Famous' below:
(Warning: This video contains explicit images.)
26/6/16
Kanye West has dropped his 'Famous' music video on TIDAL and it's sparked a lot of talk as it seemingly features some VERY naked celebrities including Taylor Swift, Rihanna, Chris Brown, Kim Kardashian and even Donald Trump.
In reality, the 'celebrities' in the video are actually lookalikes recreating Vincent Desiderio's iconic painting 'Sleep.'
Kanye took Vincent Desiderio's "Sleep" & brought it to life with a modern twist.. if that isn't genius idk what is. pic.twitter.com/bSDddfQFNo

— RAY MUÑOZ (@raymunoz94) June 25, 2016
The celebrities featured in the video, which was shot over three months, includes look-alikes, and/or elaborate wax figures of Taylor Swift, Chris Brown, Rihanna, Bill Cosby, Caitlyn Jenner, Amber Rose, Ray J, Donald Trump, Anna Wintour, and George Bush
There's a lot of talk on Twitter about 'Ye potentially being sued for the elaborate video...
Calling a lawyer near you... #TIDALXFAMOUS pic.twitter.com/RE6puWxKCX

— Giuseppe Anthony (@ItalianMonster8) June 25, 2016
But, unsurprisingly, he doesn't seem too bothered about it.
Can somebody sue me already #I'llwait

— KANYE WEST (@kanyewest) June 25, 2016
Watch Kanye West's full 'Famous' video on TIDAL.