Here's Why People Think Taylor Swift's New Album Is Throwing Major Shots At Kim & Kanye
24 August 2017, 10:15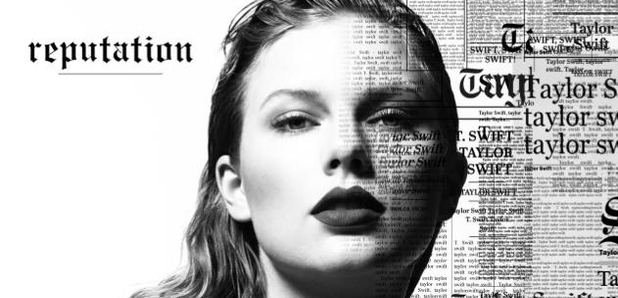 Kim is reportedly "scared" of being exposed in the upcoming release.
It's been less than 24 hours since Taylor Swift announced her seventh studio album, 'Reputation', but the Internet rumour mill is already spinning.
The singer teased the follow-up to her 2014 record '1989' with a series of sinister videos featuring a digital snake, before revealing the new album's title and cover artwork.
Set to drop on November 10th, 'Reputation' features a black-and-white image of Taylor, who can be seen wearing a ripped baggy sweater and sporting slicked back hair.
The country-turned-pop star appears to be surrounded by newspaper headlines with her name repeated in various fonts, with 'Reputation' stamped in bold rock-influenced typography.
23 August 2017
Sure enough, people began connecting the dots between T's new release and her previous beef with Kim Kardashian and Kanye West, which was sparked by a phone call conversation between Swift and West regarding his 'TLOP' track "Famous."
Suggestions were made that Taylor's choice of font resembles that of Kanye's 'Pablo' merchandise, whilst her rugged attire may be a nod to the rapper's 'Yeezy' clothing brand.
Users also speculated the Swift's wet-look hairstyle mimics that of Kardashian's frequent hairdo of choice.
Did Taylor try and shade Kanye with a FONT?! pic.twitter.com/8PKLVjQ5A3

— Sam Stryker (@sbstryker) 23 August 2017
dude this new taylor swift album is like what if an 8th grader tried to achieve the life of pablo aesthetic thats my take as a designer bye pic.twitter.com/Y9dTivHR5L

— sarah gorman (@thesarahgorman) 23 August 2017
is taylor not wearing what looks like a yeezy sweater with kim k wet hair? #TaylorSwift #redemption @THISWEEKHADME please confirm pic.twitter.com/aijc3I9rvk

— Caity (@Mansnotmen) 23 August 2017
TAYLOR SWIFT COPIED KANYE'S LIFE OF PABLO FONT ON HER NEW ALBUM COVER pic.twitter.com/q1KvdoqIE9

— Tiffany (@TiffanyHawth) 24 August 2017
Who does Taylor Swift think she's kidding in that knock-off Yeezy sweater and Gwen Stefani wannabe album typeface? pic.twitter.com/IMCcKI6NCt

— genius (@LaurelBrielle) 23 August 2017
People are even hoping she features a sample from 'Famous' in the new drop.
confirmedt: the lead single is 8 mins long bc it contains to uncut ver. of the "f*mous" phone call

— j / reputation (@taylorspurpose) 23 August 2017
the only way the new taylor swift album will be good is if she manages to appropriate a sample of the "famous" call

— quentin compson (@kiefdemons) 23 August 2017
In response to the announcement, Kim Kardashian is reportedly "scared" of the backlash she may be set to face after Taylor's new single drops.
It was widely speculated that the singer's cryptic snake videos were in reference to the abundance of snake emojis thrown Taylor's way after Kardashian allegedly exposed Swift on Snapchat.
"One of the few people out there that is not very excited for Taylor Swift's upcoming music is Kim Kardashian," a source has said.
"She feels that she will be attacked along with Kanye in a future song over their past differences and she doesn't want to deal with the fallout of a Taylor Swift song and what that does to people."
Both Kim and Kanye are yet to respond to the 'Reputation' rumours.