WATCH: Drake's Acceptance Speech At The Grammys Got Cut Off After He Dissed Them
11 February 2019, 05:16 | Updated: 11 February 2019, 06:04
After picking up his Grammy award for Best Rap Song for his song 'God's Plan', Drake took a moment to throw shade at the Recording Academy before his speech was cut off.
All eyes were on Drake as he picked up his award for Best Rap Song for 'God's Plan' at the Grammy Awards 2019.
The 32-year-old rapper took to the stage to accept his award, and said humbly during his acceptance speech that he "definitely didn't think [he] was winning anything" this year.
Elsewhere, Drizzy threw shade at the Recording Academy by suggesting that the award doesn't actually mean anything; the most important thing is that people are listening to your music.
"We play in an opinion-based sport, not a factual based sport. It's not the NBA where at the end of the year you're holding the trophy because you made the right decision or won the games," he said.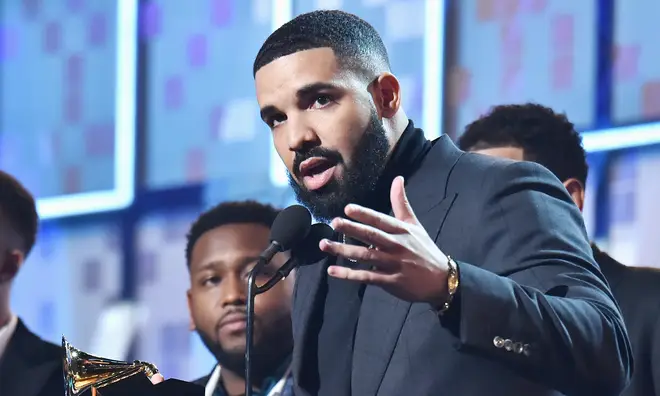 "You've already won if you have people singing your songs word for word, if you're a hero in your hometown," he continued.
"Look, if there's people who have regular jobs coming out in the rain, in the snow, spending their hard-earned money to buy tickets to come to your shows. You don't need this right here. I promise you, you already won."
It appeared the producers had had enough of Drake's speech at this point, as the rapper's microphone then appeared to be turned off just as he began to start a new sentence.
Fans of the rapper - including fellow Grammy Award winner Ariana Grande - praised him for his honesty after a commercial break took over the airwaves.