Drake & Meek Mill Drop Surprise New Song 'Going Bad' After Ending Their Beef
30 November 2018, 10:51
Meek Mill - Going Bad feat. Drake [Official Audio]
Taken from Meek's new album 'Championships', 'Going Bad' sees Drake and his former nemesis link up after making amends following their beef. The pair recently hugged on stage during Drizzy's Aubrey and the Three Migos Tour.
Meek Mill dropped his new album 'Championships' today (30th Nov.) and it's overflowing with superstar features - including an appearance from Meek's former enemy, Drake.
The rappers famously ended their three-year-long beef back in September after Drake bought out Meek on stage during his Aubrey and the Three Migos Tour, with the pair hugging on stage after Meek performed 'Dreams and Nightmares'.
"DCOVO sh*t wow," Drake wrote on Instagram. "I know they're sick right no congrats broski."
Listen to the track above,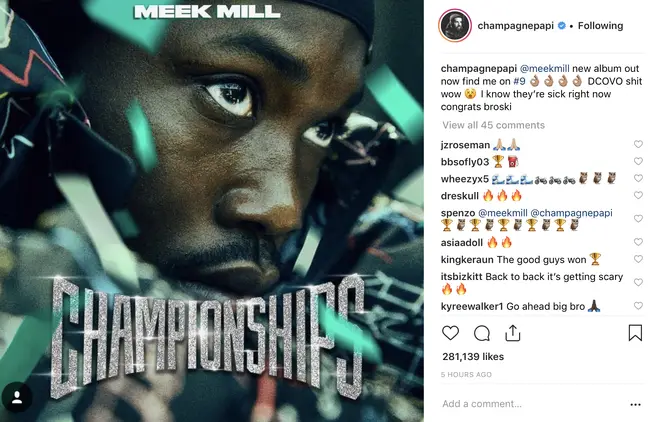 During the track, Meek directly references his past beef with Drake. "Me and Drizzy back-to-back, it's gettin' scary," he spits, nodding to Drizzy's 2015 Meek-aimed diss track 'Back To Back'.
This isn't the first time the rapper have collaborated. Before their beef kicked off, Drake appeared on Meek's 2015 track 'R.I.C.O.'.
Elsewhere on the album, Meek links up with Cardi B - rap nemesis of Meek's ex-girlfriend Nicki Minaj - on a track called 'On Me', while other artists on the album include 21 Savage, Jay Z, Rick Ross, Ella Mai and more.