Watch Drake Dunk On Jimmy Fallon's Head In Facesketball
13 May 2016, 11:53 | Updated: 13 May 2016, 12:06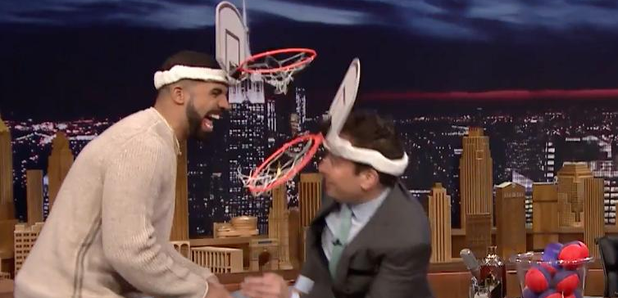 Views From The NBA.
Drake showed off his basketball skills on 'The Tonight Show Starring Jimmy Fallon' by dunking a ball on his head.
The 'Views' rapper sat down with Fallon to discuss his new album, his family, his new Virginia Black whiskey and more.
Drizzy also took part in a special game of 'Faceketball' alongside the chat show host, where he ended up dunking on his head.
Watch below:
Drake is currently promoting his new album across the US, after recently breaking the one-week streaming record and also selling over one million units in the same space of time.
Meanwhile, Drizzy has also been spotted in the studio with French Montana working on a new song rumoured to be called 'Smash'.