Chris Brown Claps Back At Criticism Over Black Women With 'Nice Hair' Lyric In New Song
2 July 2019, 10:47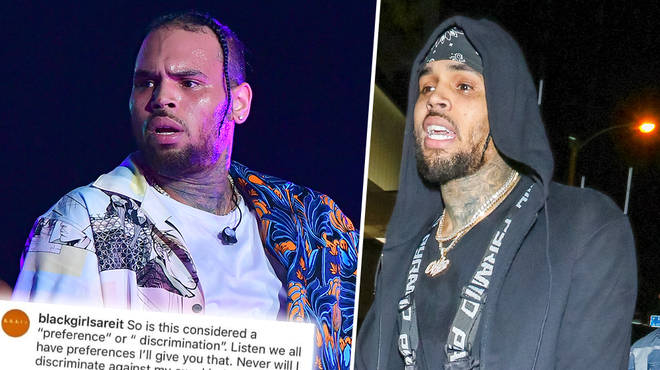 Chris Brown has responded to the backlash he has faced over his "black b**ches with nice hair" lyric in his new song "Need A Stack".
Chris Brown has taken to Intstagram to respond to the backlash he is facing over controversial lyrics about black women with "good hair" in his song "Need A Stack" from his Indigo album.
Last Friday (Jun 28th), the 30 year-old artist released his anticipated project Indigo. The enjoyment of the album quickly was overturned when fans noticed a derogatory line where Breezy sings "Only wanna f**k the black b**ches with the nice hair".
Fans took to social media to address beauty standards in the hip-hop community and Eurocentric ideals of what "good hair" and "bad hair" is - especially in the context when discussing black women.
Many fans suggested the singer doesn't appreciate the natural afrocentric look and some claim he doesn't like black women.

Breezy reposted a screenshot of an Instagram account named g.o.o.d_vybez who addressed the backlash of the lyrics.
Brown then defended himself in a jokey manner, stating: "Yall tripping trippin," he wrote. "Y'all b*tches don't wanna f*ck da n**ga wit da f*cked up teeth do you??? Only b**ches upset is the uglies (not the black queens)."
After receiving more backlash from his comment, Breezy attempted to defend himself again to an Instagram account called @BlackGirlsAreIt who featured a story about the lyrics.
They wrote "So is this considered a 'preference' or 'discrimination'.Listen we all have preferences I'll give you that. Never will I discriminate against my own kind. #chrisbrown."

The "Undecided singer responded: ""Weird ass angry people," he allegedly wrote. "Sincerely, from the bottom of my balls...I DON'T GIVE A F*CK BOUT YALL NEGATIVE BOOTYFACE ASS B*TCHES."
He continued: "IM START GIVING AWAY FREE LACE-FRONTS FOR ALL YOU WIERD FEMALES WIT THE SKID ROW EDGES AND LOW SELF ESTEEM. ASIDE FROM THAT...HOP OFF THESE NUTTS."
Brown added: "Half y'all look like BUDWEISER FROGS...SO PLEASE DON'T COME WIT DA BULLS**T. I WILL FIRE DAT ASS UP AND ROAST THE HELL OUT OF YOU OVERLY SENSITIVE DUCKHEAD ASS WIERDOS."
What do you think about Chris Brown's lyrics ?