Cardi B Exposed On Instagram By Nya Lee After Sparking Vicious Feud
15 May 2018, 13:03 | Updated: 15 May 2018, 13:07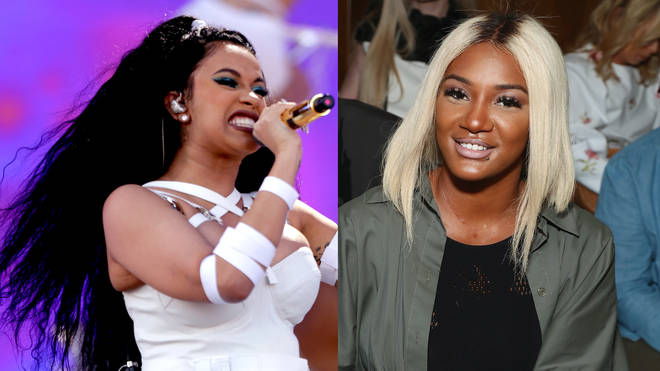 The duo have taken their beef to social media.
Cardi B has become involved in an ongoing spat with musician and radio host Nya Lee.
Lee posted the content of an argument between the pair that ensued over Instagram direct messaging, which appears to have been sparked after Lee critiqued Cardi's delivery on songs.
"Eat a d**k hating a** b**ch" slams Cardi in her opening message, urging Lee to "keep the same f**kin energy". Cardi also claims that Lee has been trying to work with her on music.
Lee goes on to praise Cardi's work ethic, before telling her to "get out of [her] pregnancy hormones." The pair continued to call each other out during a lengthy argument.
At one point, Lee calls out Cardi for her alleged ghostwriting, to which Cardi replied, "How many songs you sold that you wrote thoo? How far did the songs you wrote got you?"
Underneath the screenshots, Lee wrote that she finds it "troubling" that "the same people we praise for women empowerment are the same ones tearing other up and coming female artists down."
"The media often times brushes things under the rug for their favs but this literally hurt me to my soul and I really understand now what It feels like to be attacked by the same artist you cheered on."
Read the rest of Lee's post below.
The 'Invasion Of Privacy' star later took to Twitter to promote her debut album while addressing the ongoing feud.
Well shiiiieeettt i hope ya playing invasion of privacy on ya Bardi cancel party 😂😂😂BICKENHEAD and "SHE BAD is a good twerking song "i like it" will live up the party and care thru DRIPPIN make you brush your shoulders .

— iamcardib (@iamcardib) May 14, 2018
Cardi recently deactivated her Instagram account after responding to Azealia Banks, who recently hailed her "an illiterate untalented rat" and also claimed she was a "caricature of a black woman".