Cardi B Posts Epic Rant About Online Gossip Sites After Offset Arrested - WATCH
24 April 2019, 10:44 | Updated: 24 April 2019, 10:53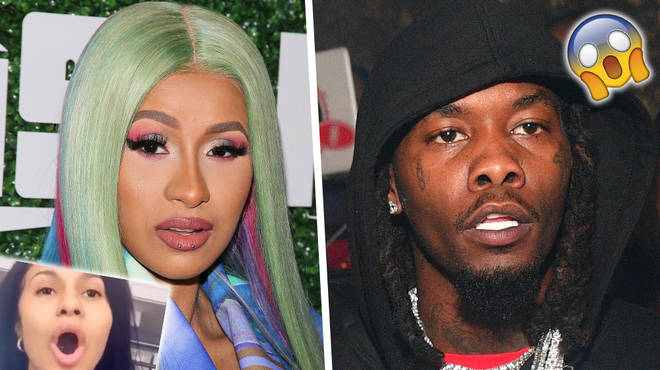 Cardi B goes off on hip-hop blogs who post negative news and non-urban blogs who capitalise off controversy, following her husband Offset's arrest...
Cardi B took to Instagram in an expletive rant directed at hip-hop blogs who only post negative news about her family and friends, following reports that emerged that her husband Offset is facing gun and drug charges. Offset has reportedly been charged with gun and drug possession following his July 2018 arrest in Georgia.
After directing the rant at a specific blog, Cardi went into a wider conversation about non-urban media outlets capitalizing off controversy with urban celebrities.
During Cardi B's Instagram rant, she had some questions that were lurking in her head.
She asked "Why wouldn't a white Caucasian person try to capitalize from the drama that happens in the urban and the black entertainment business, when black blogs, black-owned blogs capitalize off they own drama and problems".
She continued "You don't see Donald Trump. You don't see Charlie Sheen sh*t going viral every year, every so. 'Cause they don't give a f*ck anymore. Back in the day, (online blog) used to report about Angelina Jolie, Brad Pitt, all these Caucasian celebrities, all these celebrity actors".
Cardi went on to say "Now, all they do is post about hip hop artists, people that's in the black entertainment business because black blogs capitalize off of black entertainer's drama".
Cardi B is seemingly frustrated by seeing reports of her husband facing a felony charge of firearms possession. The charge comes with two misdemeanor charges of marijuana possession and an improper lane change.
According to TMZ, Georgia's Clayton County prosecutors had filed three charges against the Migos rapper in February. Offset, who has previously been a convicted felon, reportedly got pulled over for having his windows tinted too dark. Georgia police officers then searched the vehicle and allegedly discovered a gun inside of his vehicle.
The 27 year-old rapper is facing a felony charge of firearms possession by a convicted felon, along with two misdemeanor charges of marijuana possession and an improper lane change.
The "Pure Water" rapper was arrested just 10 days after Cardi B gave birth to their beautiful daughter Kulture Kiari. Besides the first child the couple have together, Offset also has three children from previous relationships: sons Jordan and Kody and daughter Kalea Marie.
Offset has a history with law run-in's. In 2016, the Migos-turned solo rapper was arrested for driving with a suspended license charge. Also, during a concert in 2015, Offset got arrested for drug and gun charges during a concert.
According to WSB-TV, prosecutors dropped the drug and gun charges as part of a plea deal.
>
>
>