Cardi B Deletes Instagram After Responding To Azealia Banks "Illiterate" Comments
13 May 2018, 07:28 | Updated: 13 May 2018, 07:40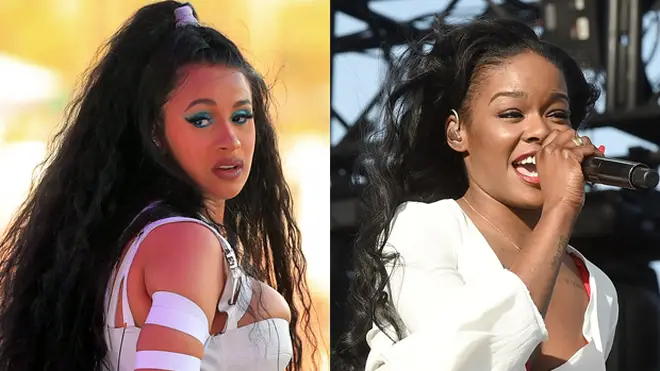 Cardi B has deactivated her Instagram account and locked her Twitter account after responding to Azealia Banks' latest comments about her intelligence.
In a new interview with The Breakfast Club, Banks reinforced her previous statements about Cardi being "an illiterate untalented rat" and also claimed she was a "caricature of a black woman".
However in a now deleted Instagram post, Cardi fired back with a lengthy response.
"You busy trying to be a voice of a voice of reason and a representative for women of colour when you can't even reason with yourself," she said.
"You can't understand where your insecurities come from and why you're not happy in your own skin so you think because you can't figure sh*t out that you can create confusion for me, make me unsure about who I am? I know who I am!"
Read the full reply below:
During her interview with The Breakfast Club, Azealia Banks praised Beyonce for her 'Lemonade' album, before slamming Cardi B.
"We were discussing our power amongst ourselves. Beyoncé came out with LEMONADE and there was a really intelligent conversation going on nationally.
"And then, everything just kind of changed and then it was like, Cardi B… I'm just talking about this caricature of a black woman that black women themselves would never be able to get away with. If my spelling and grammar was that bad, I'd be cancelled.
"If Nicki Minaj spelled like that, you'd just be ragging on her all day. I don't understand how we go from Beyoncé, LEMONADE, and Solange, Black Lives Matter, and all of these conversations to this."
After seeing Cardi B's response on social media, Azealia Banks clapped back on Instagram with some brutal insults.
"You and whoever wrote this reply for you don't have the intelligence to engage in this not-so-complex discussion," she said.
"You are a very mediocre looking light-skin woman with cold sore scars on the sides of her mouth, a coated tongue you love to wag around and horribly deep set eyes."
See below:
Cardi B is yet to respond to Banks' latest jabs.
Want the latest news sent straight to your phone? Download the Capital XTRA app for free