Beyoncé Fans Are Accusing Taylor Swift Of Copying Her Coachella Performance - WATCH
2 May 2019, 12:51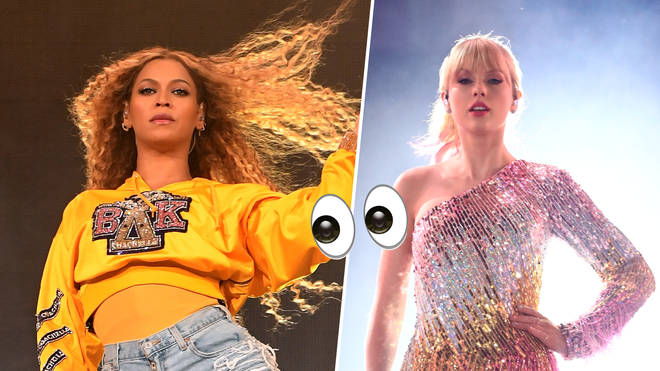 After Taylor Swift kicked off the 2019 Billboard Music Awards with a performance of her new song 'ME!' with Brendan Urie, fans of Beyoncé pointed out some similarities to a certain Coachella live show.
Taylor Swift was all sparkles and fun as she kicked off the 2019 Billboard Music Awards in Las Vegas with her new single 'ME!' yesterday (1st May.)
The 29-year-old singer lit up the stage in a sequinned mini dress as she strutted around the pastel-coloured set - however, there was one particular detail that raised a few eyebrows in the online community.
After Beyoncé fans noticed that Taylor used a marching band within her performance, many accused her of copying Beyoncé's historic 2018 Coachella performance, popularly dubbed 'Beychella.'
"Beyonce didn't invent a drum line but you can't convince me that Taylor Swift, from her early years on a Christmas tree farm, came up with this just like that," wrote one user.
"Taylor Swift's performance is the white girl mediocre version of Beyoncé's Coachella set. Don't @ me, @ your mom," added another, while someone said, "Taylor, imma let you finish, but Beyoncé had the best drum line of all time. #BBMAs."
However, while many members of the Beyhive took issue with Taylor's performance, others defended the starlet. "Girl, it's drums... Beyoncé wasn't the first to use drums in a performance and Taylor definitely isn't either," wrote one.
"Beyoncé had a whole as band and Taylor had just drums. Y'all need to stop comparing the most general things just because you don't like Taylor."
I'm hardly Taylor Swift's number one defender but I will say I really don't think she's trying to copy Beyoncé
¯\_(ツ)_/¯

— Tyler McCall (@eiffeltyler) May 2, 2019
Both Beyoncé and Taylor are yet to comment on the controversy.