Beyoncé Slammed For Cultural Appropriation After Performing At Indian Wedding
11 December 2018, 14:45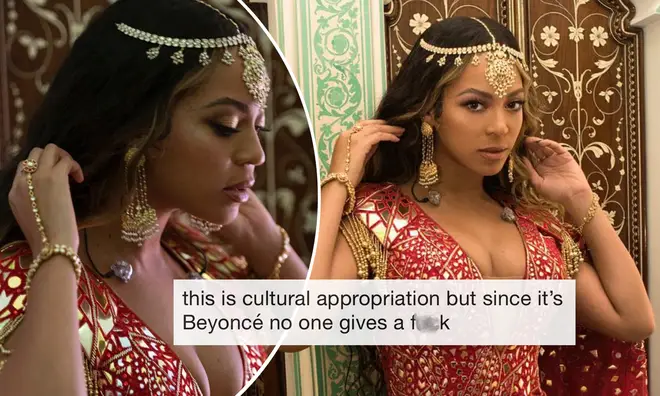 The 'Lemonade' singer recently performed at the wedding of Isha Ambani, the daughter of India's richest man. However, Beyoncé drew criticism after being accused of 'cultural appropriation'.
Beyoncé has been accused of cultural appropriation following her performance at a wedding celebration in India.
The 37-year-old performed for guests at the star-studded pre-wedding festivities of Isha Ambani, the daughter of India's richest man, and Anand Piramal, the son of another Indian billionaire, in Udaipur.
In a series of photos uploaded to both her website and her Instagram page, the 'Lemonade' singer can be seen wearing a seemingly traditional red-and-gold Indian ensemble, with a gold headpiece and jewellery.
However, some people took the star's outfit as an act of appropriating Indian or Hindi culture, and suggested that because she is "Beyoncé", it was being ignored.
Y'all not yelling cultural appropriation because its beyonce lmfaooooooo

— alex (@202apr) December 9, 2018
i'm all for calling out cultural appropriation but why are we so predictably quiet about Beyoncé doing so when she doesn't even try to be subtle? pic.twitter.com/0mVHYurYME

— GΣӨЯGΣ GL∆SS (@_george_glass) December 9, 2018
y'all spent so long dragging selena gomez for cultural appropriation during the come and get it era but are praising beyoncé when she's just as guilty of it now? interesting...

— angel bby (@literalangelnic) December 10, 2018
Beyoncé's fans jumped to the star's defence, arguing that Bey was actually paying homage to the country and was invited to their space by the family.
People really are on Beyoncé's comments talking about cultural appropriation. The bitch is in INDIA, she's not at a Halloween party, she's about to perform at an INDIAN wedding. Are y'all ok here ? pic.twitter.com/G4A5QuPT29

— Nous on avance et toi tu régresse (@melissaDRML) December 9, 2018
Definitely fueled by anti blackness and jealousy, as are most critiques of Beyoncé. This tweet screams "she can't do it if I can't!" People who can't stay in their lane fail to realize the wide line between cultural appropriation and becoming culturally literate to pay respect.

— THE East Atlanta Santa🎄 (@ylimecol) December 9, 2018
why are fake wokes on twitter accusing beyonce for doing cultural appropriation ? IT'S APPRECIATION YOU MFs !! y'all don't know shit about indian culture !! literally sit tf down, even indians aren't mad why are you dumbasses shoving it down our throats as if yall know better

— anupama (@taysmoonchiId) December 9, 2018
I swear the only people accusing Beyonce of cultural appropriation are white girls who are still sour at being called out for wearing a plastic Native American headdress to a music festival 2 yrs ago

— Third Force (@NalediMashishi) December 10, 2018
Bey is yet to respond to the criticism. This isn't the first time she's been accused of cultural appropriation either -she received backlash for her role in Coldplay's music video for 'Hymn For the Weekend'.
Meanwhile, Bey and her husband Jay-Z have picked up three nominations at the 2019 Grammy Awards, which are set to air next February.
The billionaire couple are up for Best R&B Performance for their track 'Summer', Best Urban Contemporary Album for their album 'Everything Is Love', and Best Music Video for their song 'APES***'.