Beyonce & JAY-Z Leave Fans In Tears With Touching Grenfell Tribute During London Performance
16 June 2018, 10:13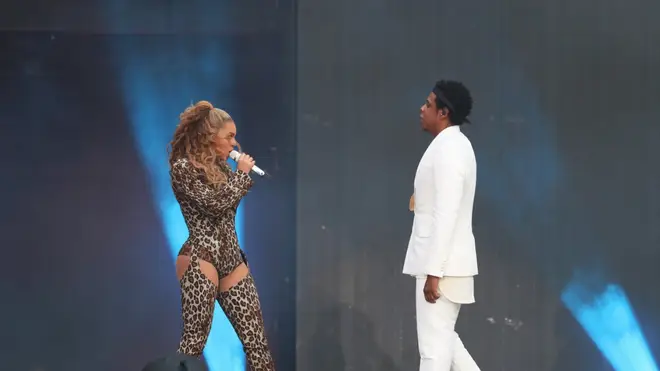 The 'On The Run II' couple payed their respects on stage...
Beyonce and JAY-Z reduced fans to tears during their latest London performance, following a heartfelt tribute to the victims of Grenfell tower.
The Hip-Hop power couple stopped their show to dedicate a special performance of JAY-Z's song 'Forever Young' for the 72 people killed in the disaster a year ago.
Beyonce and JAY-Z both wore green heart badges from the Justice4Grenfell campaign as they performed.
Watch the footage below:
The pair 'floated' over the crowd on a moving stage as emotional fans flashed their phone lights in the air and sang along.
Following the performance, people took to Twitter to express their emotion at Beyonce and JAY-Z showing support for victims of the blaze.
We are grateful that Jay Z and Beyonce dedicated their last song to Grenfell tonight, they said their thoughts were with the families & survivors. We are glad they wore the green heart badges that we sent over! Thank you 💚#Justice4Grenfell @grenfellspeaks

— Justice4Grenfell (@officialJ4G) June 15, 2018
Tbh I feel like Jay Z and Beyonce doing a shout out to Grenfell and wearing green hearts for Forever Young is more than Theresa May's done in a fucking year

— Niamh Skinner (@niamhskinner) June 15, 2018
Beyonce and Jay Z acknowledging and tributing the residents of Grenfell made me cry. What a special, righteous act.

— greeney (@James_Greeney) June 15, 2018
Beyoncé and Jay Z just dedicated London's #OTRII to the victims of Grenfell.

We all sobbed.

— Lauren Dudley📸 (@Lauren9Dudley) June 15, 2018
JAY-Z and Beyonce are currently on their world 'On The Run II' tour, previously performing at venues in Glasgow and Manchester.
Elsewhere in the show, they also performed some of their biggest hits including 'Crazy In Love', '03 Bonnie and Clyde' and more.
During their recent performance in Manchester, the pair sang happy birthday to their one-year-old twins Rumi and Sir Carter.