Beyoncé Fans Angry As She's Ranked "Second Most Beautiful Woman In The World"
17 October 2019, 13:07 | Updated: 17 October 2019, 13:11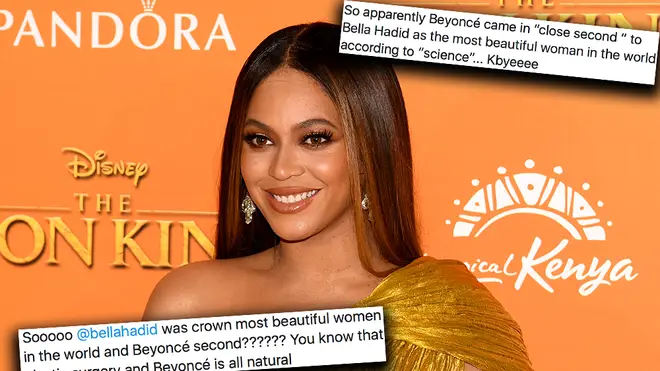 Beyoncé has been scientifically proven to be the second most beautiful woman in the world, after Bella Hadid ranking in first place. The Beyhive reacted to the ranking on Twitter.
Beyoncé has been crowned the second most beautiful woman in the world following scientific research. Bella Hadid came first place when it comes to what constitutes having the "perfect face".
When the Beyoncé's fans caught wind of their queen Bey ranking second to Hadid, they couldn't help but express their confusion. The Beyhive is known to be one of the strongest fan bases, and they won't let Beyoncé be second best in any category.
According to The Daily Mail, the Golden Ratio of Beauty Phi – which measures physical perfection – determined Hadid is 94.35% "accurate" on a scale up to 100%.
Beyoncé ranked second with a score of 92.44%.
The measurement is determined by facial features and face shapes coming the closest to the ancient Greeks' idea of perfection.
Dr De Silva, who runs the Centre For Advanced Facial Cosmetic And Plastic Surgery said "Bella Hadid was the clear winner when all elements of the face were measured for physical perfection".
Silva continued "Beyoncé ran her a close second, scoring the highest marks for the shape of her face (99.6%) and getting very high scores for her eyes, brow area and lips".
He added "These brand new computer mapping techniques allow us to solve some of the mysteries of what it is that makes someone physically beautiful and the technology is useful when planning patients' surgery."
After reading the report, the Beyhive took to Twitter and reacted to Beyoncé being the second most beautiful woman in the world.
One fan wrote "So supposedly Bella Hadid was voted most beautiful woman and Beyonce came second???????????? Not to be rude but what the actual F**K". Another fan wrote "See tweets below.
They named Beyoncé the SECOND most beautiful women after Bella Hadid. That's blasphemy

— Katina (@kitty_KATina) October 16, 2019
On Beyoncé's own internet, they named her the second most beautiful woman? After BELLA HADID???????

— natalie. (@_petiteNats) October 16, 2019
I wonder if the Golden Ratio of Beauty Phi is aware that Bella Hadid whole face is created b4 they had to nerve to award her the "most beautiful woman in the world " w/ Beyonce coming in second. That's mad disrespectful

— E. (@ONELETTERE_) October 16, 2019