Beyoncé Fans Furious After 'Power' Actor Omari Hardwick's "Inappropriate" Kiss In Front Of Jay-Z
1 April 2019, 10:40 | Updated: 2 April 2019, 08:49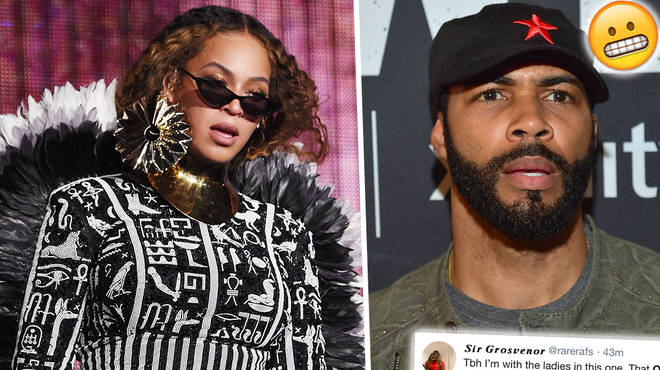 Omari Hardwick gets "too close for comfort" after kissing Beyoncé twice at the NAAPC Image Awards and the "beehives" are not happy...
At the 50th NAACP Awards ceremony, Beyoncé earned the title of "Entertainer of the Year" on Saturday night (Mar 30th). Although the celebration was recognised and fans were congratulating Beyoncé after her lovely speech, the attention quickly turned from a positive occasion overshadowed by a negative.
Omari Hardwick gave Beyoncé, not one, but two kisses, and the "Beyhives" were not happy.
Jay-Z was right next to Beyoncé and took a photo with Harwick, just before he laid two kisses on Queen Bey. Beyoncé's fans came for Omari in an instant, as fans couldn't help but notice Beyoncé seeming uncomfortable.
Feminists began to stand up for Beyoncé and stood against the the move Omari made. Some fans believe Omari invaded Beyoncé's personal space and think the second kiss was unnecessary.
As he should. Highly inappropriate for @OmariHardwick to kiss @Beyonce PERIODT especially that 2nd kiss so close to her mouth. She looked extremely uncomfortable and it was just uncalled for. Omari is married, Beyoncé's husband is standing right there! Just disgusting do better!! https://t.co/dzWw9YgjEF

— Sterling Collins (@SterlinGabriel_) March 31, 2019
The first kiss was a greeting kiss, whereby the Power star congratulated Beyoncé, but the second kiss is arguably inappropriate. The second kiss landed close to Beyoncé's mouth, which seemed farfetched and awkward. Omari's fans feel as though he panicked in the queen's presence and didn't know how to act.
Omari probably felt a little weird himself, after watching back the clip of him kissing Bey twice.
> Download Our Free App For All The Latest Beyonce News!