Beyoncé And Jay-Z Give Parenting Advice To Meghan Markle And Prince Harry At The Lion King Premiere
15 July 2019, 10:39 | Updated: 15 July 2019, 10:41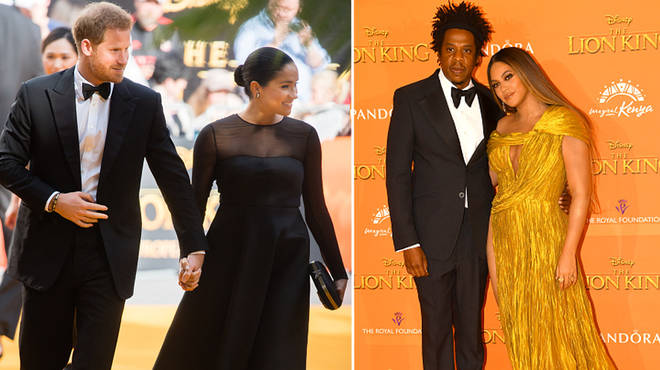 The Lion King premiere took place at London's Leicester Square yesterday, with Beyoncé, Jay-Z, Meghan and Harry gracing the red carpet.
Both literal and figurative royalty graced the red carpet yesterday at London's Leicester Square, as Meghan Markle, Prince Harry, Beyoncé and Jay-Z attended the premiere of The Lion King.
The Duke and Duchess of Sussex were affectionately greeted by Queen Bey and Jay, who donned a stunning yellow dress with a thigh-high split, and a killer black suit and bow tie, respectively.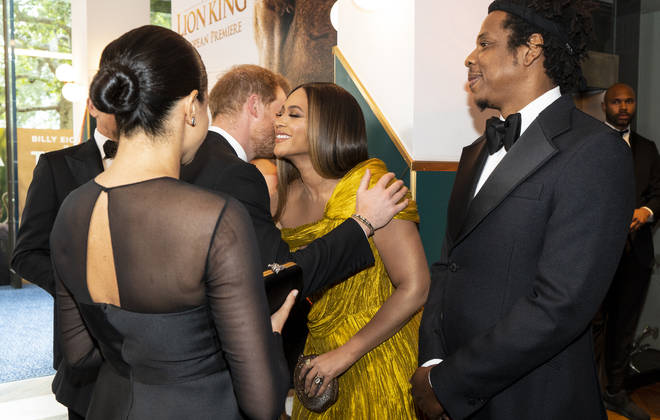 Standing next to Jay-Z on the red carpet, the 'Spirit' singer, who voices the character of Nala in the live action reboot of the classic 1994 animated movie, was seen embracing Meghan, before greeting Harry.
According to royal correspondent Rebecca English, Beyoncé went on to comment: "The baby [Archie Harrison Mountbatten-Windsor], so beautiful. We love you guys."
Moments later, Prince Harry joined them, asking: "And how are the twins?"
To which Beyoncé responded: "They are not here. They don't come on every trip. We left them at home. They would've loved to have been here."
Jay-Z then imparted some friendly - and wise - advice to the new parents, saying: "The best advice I can give you? Always find time for yourself."
Beyoncé and Jay-Z expressed their admiration for Meghan Markle back in February, when they accepted their BRIT Award via video.
In the clip, the power couple were stood in front of a picture of The Duchess of Sussex dressed in regal clothing, before they turned and faced the portrait.
Bey shared a snap of the moment on her Instagram, with the caption: "Thank you to the Brits for the award for Best International Group. I won this award back in 2002 with my besties, Kelly and Michelle. How lucky am I to have been in a group with my other best friend, the GOAT Hova. 🙌🏾 In honor of Black History Month, we bow down to one of our Melanated Monas. Congrats on your pregnancy! We wish you so much joy."