Ariana Grande & John Legend Release Magical "Beauty and the Beast" Music Video - WATCH
6 March 2017, 10:45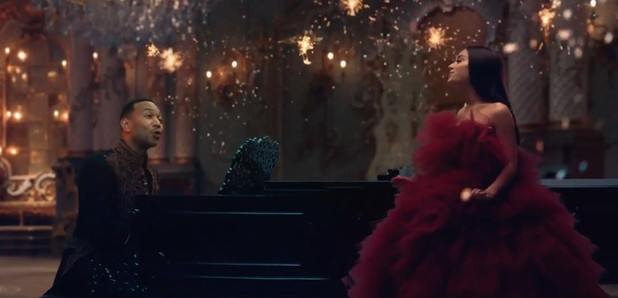 But people have opinions on Ariana's dress.
Ariana Grande and John Legend have released the music video for their rendition of 'Beauty and the Beast' and it is spellbinding.
In true Disney style, the video is set in a magnificent castle and sees the princess-like Grande and her dancers whirl gracefully around an opulent ballroom.
John Legend sits playing an open grand piano in a Prince Charming-esque outfit before Belle and the Beast take centre stage.
Watch the video below:
The original version of the song was sung by actress Angela Lansbury, and also recorded by Celine Dion and Peabo Bryson, for the 1991 animated movie.
And although Legend and Grande's rendition has received mainly positive reviews, many people had opposing opinions on the 'Dangerous Woman' star's gown.
Ariana's billowing ruffled red dress caused a stir on social media after many users compared it to a shower loofah.
Lets be real for a second... Ariana Grande or a loofah? The world may never know. pic.twitter.com/4v97GGXPHb

— Katelynn (@TheKatelynnAnne) March 6, 2017
@arianagrande y u look like a singing loofah

— grande miller (@dangerousbunnny) March 6, 2017
i mean this in the nicest way possible, but Ariana Grande totally looks like a loofah in the Beauty & the Beast music video, just sayin' pic.twitter.com/y6mIw57qI9

— KL (@whyhellokatelyn) March 6, 2017
tell me why ariana grande looks like a beautiful loofah pic.twitter.com/kHpQtwxKxt

— caylene (@cayleneey) March 6, 2017
When you can't take the music video of Tale As Old As Time seriously because Ariana Grande looks like a loofah

— Andie (@andie92) March 6, 2017
The live action remake of 'Beauty and the Beast' releases on 17th March, and stars Emma Watson as Belle alongside Dan Stevens as the Beast.