50 Cent Posts & Deletes Savage Picture Mocking Terry Crews For Being Sexually Assaulted
27 June 2018, 10:42 | Updated: 27 June 2018, 10:58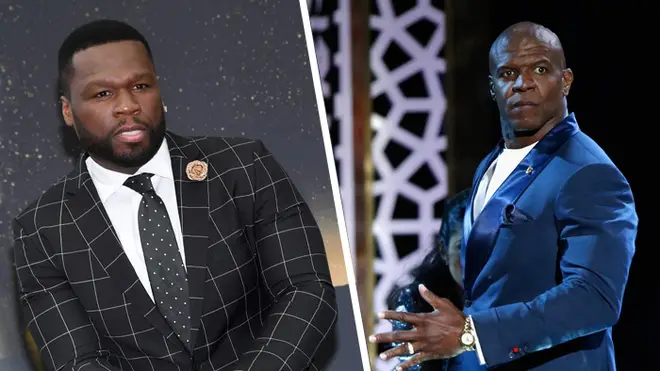 50 has received a huge backlash...
50 Cent is under fire after appearing to mock actor Terry Crews for testifying before a Senate Judiciary Committee about sexual assault by a Hollywood agent.
The New York rapper, who is often controversial on Instagram, posted an image of Crews shirtless alongside the words "I got raped. My wife just watched."
It also featured another photo of the actor in a suit with a rose in his mouth alongside the words "gym time."
50 captioned the image: "LOL,What the f*ck is going on out here man? Terry: I froze in fear. they would have had to take me to jail. get the strap."
See the deleted post below: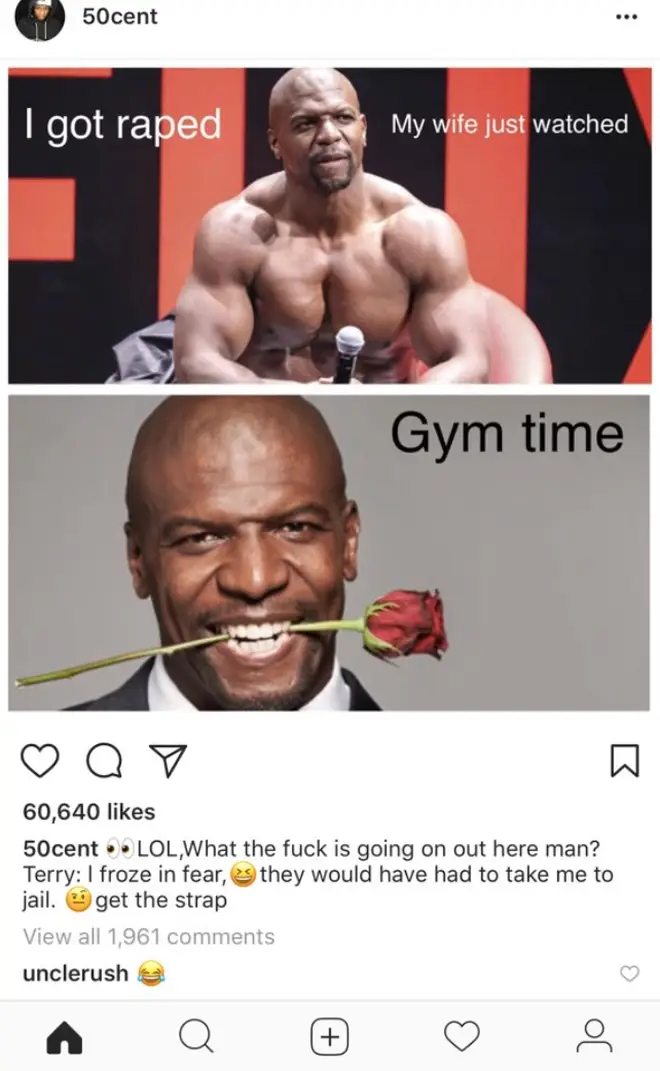 The post follows Crews visit to the Senate Judiciary Committee to back new laws for sexual assault victims.
"I'm not a small or insecure man," he said in court. "But, in that moment... I've never felt more emasculated.
"The assault lasted only minutes, but what he was effectively telling me while he held my genitals in his hand, was that he held the power - that he was in control.
"This is how toxic masculinity permeates culture."
He also explained that after the incident, he was told "over and over that this was not abuse, that this was just a joke, that this was just horseplay".
But that he now knows that "one man's horseplay is another man's humiliation."
Following the Instagram post, fans took to Twitter to express their anger and frustration at 50 Cent for mocking Crews.
Toxic masculinity is what is doing @50cent instead of showing support to @terrycrews he is mocking him.

Childish.

— Kelechi Okafor (@kelechnekoff) June 26, 2018
shit like this is the reason men don't come forward as victims of sexual assault often. 50 Cent is publicly mocking Terry Crews, allowing Russell Simmons (friends with Crews' abuser who tried to get him to drop the charges) to openly laugh at him. pic.twitter.com/J16TUvDUYi

— wesley (@wslymcln) June 26, 2018
Terry Crews is a gem. 50 Cent can never relate cos like his name suggests, he doesn't add much value to anything of importance.

— Karen ♡ 종현 (@Afrominx94) June 26, 2018
50 cent is trash and has been trash. Reported those two posts(ig) he made about Terry Crews. Disgusting.

— Honey 🐝 (@HausofMatri) June 26, 2018
50 Cent trash for mocking Terry Crews like that. And yeah i know he does this for everything but even in this day and age there are some things that need to be off limits when it comes to jokes.

— Hubert's Side of the Story (@JRocIsMajor_) June 26, 2018
Meanwhile, 50 Cent is preparing to release the highly-anticipated fifth season of his crime drama Power.
The rapper-turned-actor, who also executive produces the show, is set to premiere the new series on Starz on 1st July and Netflix UK on 2nd July.