50 Cent slammed for trolling Power co-star Naturi Naughton's hairline
14 November 2019, 10:38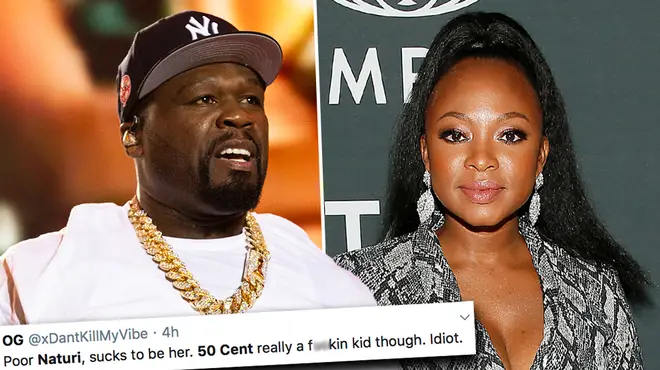 Rapper-Businessman 50 Cent has been slammed after comparing Naturi Noughton to a Mortal Kombat character, with reference to her hairline.
50 Cent has still found a way to get on with his trolling activities, despite having his Instagram account deactivated. The New York rapper has received backlash after trolling Power co-star Naturi Naughton.
The Power executive producer has taken to Twitter to troll a star from his popular American drama series. Naturi Naughton, who plays 'Tasha' in Power, has been roasted by the rapper-businessman.
On Wednesday (Nov 14) 50 Cent went in on Naturi's appearance using a meme. While Fif previously trolled her on Instagram, with a meme from the final mid-season episode, he has found a new one to roast the star.
The meme shows a side-by-side photo of Naturi, with her hair slicked back into a high ponytail. Besides Naturi, there is a photo of character 'Goro' from Mortal Kombat.
The "In Da Club" rapper received backlash on Twitter, with fans defending Naturi.
One fan wrote "Who needs enemies with a boss like this" while another wrote "Imagine if you paid this much attention to your firstborn as you did bullying your client".
See fans reacting to 50 Cent's post below.
I said this awhile back but 50 Cent Legit don't go after white people the way he goes after black folks. The dude is terrible. Naturi Naugton or most of y'all know her as Tasha, said she didn't like that he was making fun of hair style.Yet that man still doing it.He lame

— Jamaican King 🇯🇲 (@_KarateChris) November 14, 2019
50 cent doing that to Naturi is so lame, he should be protecting her as his staff esp when she's said she's not happy with what he posted before 🍅🍅🍅

— Nikky (@nikkyloves) November 13, 2019
50 Cent is a perfect example of don't apologise if you're gonna do it again. He literally just apologised to Naturi (dk how to spell her name😩) a week ago and now he's making jokes again?

— baby g (YouTube: Kay Shantel)🇿🇼 (@kayshantel15) November 14, 2019
@50cent why do you keep dissing a black woman's hair? naturi just had a kid a few years ago and could have post natal shedding still, or maybe that's just how her hair is. It's never a good look to make fun of a brown skinned woman who's battled so+ @naturinaughton

— Joan Palmer (@JoanPal76204644) November 14, 2019
Aww, it looks like someone wasn't getting enough attention and had to go after Naturi again, obsessed much?

— Kat (@Kat67731775) November 14, 2019