50 Cent Claps Back At Fan Who Claims Fetty Wap "Fell Off" In His Music Career
23 August 2019, 16:05
Power Executive Producer 50 Cent, has responded to a fan on Instagram who claims Fetty Wap has "fallen off" in his music career.
50 Cent is usually the person doing the trolling, but today he responded to a fan and defended his hip-hop peer Fetty Wap against a troll. The rapper-businessman answered one fan's question about why Fetty Wap has "fell off".
While the "In Da Club" rapper has been on his promotional run for the upcoming sixth and final season of Power, he made time to set this fan straight about what's happening with Wap's music career.
On Thursday (Aug. 22) 50 Cent too to Instagram to post a photo of Fetty Wap performing at his show.
The photo urged fans to wonder where Fetty Wap has been, after the rapper hasn't consistently released music in a long time. One Instagram user wrote "DAwg fell off" in reference to the New Jersey rapper, which Fit quickly shut down.
50 Cent replied to the fan, saying "He just had a contract issue," wrote Fif. He continued to explain "It makes a artist not want to make music" to the fan who claimed Wap fell off.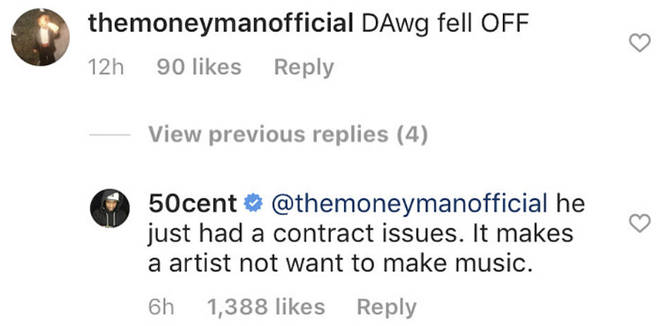 In 2015, Fetty was nominated in the Best Rap Performance and Best Rap Song categories, for his hit "Trap Queen."
The "My Way" rapper hasn't dropped an album since debut in 2015. However, he has released several mixtapes since that time. In 2018, Fetty Wap dropped off his Bruce Wayne mixtape.