Khloe Kardashian Slammed By Fans After Her Lavish Baby Shower Is Sponsored By Amazon
13 March 2018, 12:07 | Updated: 13 March 2018, 12:25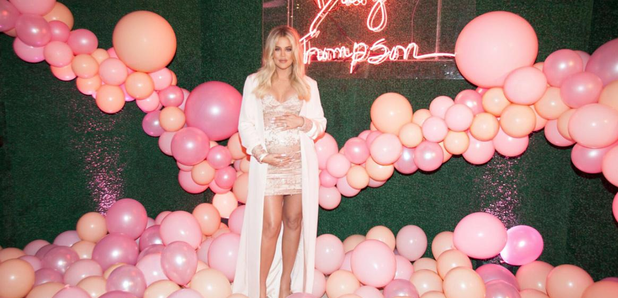 The star-studded baby shower wasn't funded by the multi-millionaire reality star.
Khloe Kardashian is being slammed by fans after her baby shower was sponsored by retail giant Amazon.
The 33-year-old reality star, who is weeks away from giving birth to her first child with Tristan Thompson, had her lavish celebration officially paid for Amazon Baby Registry.
The star-studded get-together at LA's Bel Air hotel looked stunning in pictures shared on social media.
Pink balloons and huge elephant-shaped flower arrangements surrounded a large confectionary table.

"Special thank you to Amazon for helping me bring it all together! More pictures to come," she captioned an image on Instagram.
However after discovering Khloe Kardashian didn't pay for her own baby shower, fans took to Twitter to express their anger and disappointment.
I guess I just don't understand the idea of amazon gifting a baby shower to khloe kardashian. A family that can afford anything for that kid is given a free shower? When there are moms that can even afford formula that you could give to? Idk

— @Kali (@KaliNichole95) 11 March 2018
Amazon paid for khloe kardashian's baby shower? Really? Like she couldnt pay for it herself?

— Rachael T. (@yunggordita510) 11 March 2018
Oh wow. #KhloeKardashian got a FREE babyshower sponsored by @amazon #shocking worst marketing I've ever seen. Not like the whole clan can't afford it but how about giving to people who really need it maybe that would have been good PR! You've lost yourself a customer here!

— Shabs (@Shabs_G) 12 March 2018
Having it broke my heart even more.... they refused, and didn't even reply with a "sorry for your loss" or anything. I haven't purchased from them since, and now all these issues are coming out. Not sure who's behind the company, but someone needs to fix this reputation. #Amazon

— Amanda Adams (@Manda_Adams88) 12 March 2018
Really @amazon felt Khloe Kardashian need financial assistance & paid for her baby shower. there are SOOOO many families that would love to see a amazon box full of baby formula diapers etc on their doorstep. I will not be able to hit the PLACE ORDER button again #amazon

— I Keep Forgettin Why (@pattinelson3) 12 March 2018
According to TMZ, Khloe Kardashian had drawn up a wish list for the baby shower, worth over $90,000.
The mother-to-be put together an expensive wish list of items, including a $10,000 crib, a Versace baby blanket worth $365 and a matching $600 Versace changing bag.