What is Clubhouse? The invite-only social media app explained
1 February 2021, 17:56 | Updated: 1 February 2021, 18:04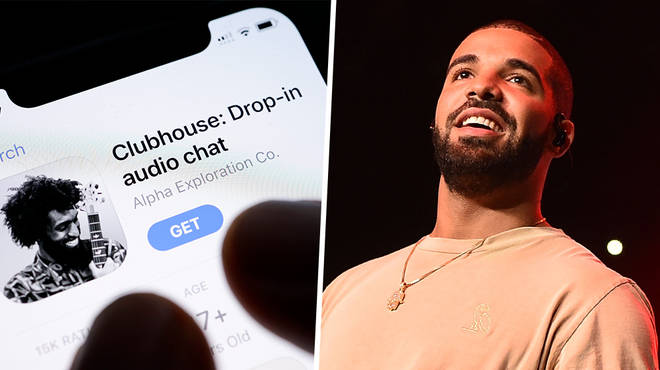 The new audio-only social media app has attracted many stars such as Drake, Meek Mill, 21 Savage and more...
The new Clubhouse social media app has taken the internet by storm – with many users indulging in the fresh app with exciting features.
Everyone wants to be invited to this exclusive audio-only social media platform, offering a closer feel to celebrities, talent shows and interesting conversations.
Clubhouse launched in April 2020 for creatives from all over the world to network.
But why is the app invite-only? Find out more about the Clubhouse app below.
What is clubhouse?

Clubhouse is a social media app where users share audio clips instead of text and image posts.

The social media app company describes itself as a "new type of social project based on voice" where "people everywhere (can) talk, tell stories, develop ideas, deepen friendships and meet interesting new people."

The experience has been described as it is "like walking into a conference room where a panel or Q&A is happening."

Subscribers are able to join different rooms at any time, or create their own.

On the Clubhouse site, it says that people have used the app to communicate about things such as political issues, day-to-day life and entertainment.

The Clubhouse social media app prides itself on exclusivity. Picture: Getty

How do I join clubhouse?

At the current moment, Clubhouse prides itself on exclusivity —meaning you have to be invited to join the platform by an existing user.

But their according to their site, they offer hope about for those who was to join.

In a company statement, Clubhouse states they are "building Clubhouse for everyone and working to make it available to the world as quickly as possible."

However, it is unclear when the app will allow people to join without an invite.

iPhone users can download the app and reserve a username without an invitation.

However, iPhone users still can't access the app or enter the chat rooms.

How do you use Clubhouse?

Clubhouse is made up of 'rooms', which anyone user can join or start. They have the option to title a chat room with the topic of discussion.

Inside the app, you have the moderator, who is the person who started the room, and the audience, who joins.

If you want to speak on the app, you can 'raise your hand' and be brought up to the 'stage' alongside the moderator who controls the room.

The Clubhouse app has become increasingly popular as a new social media platform. Picture: Getty

Which celebrities are on clubhouse?

So far, the app has attracted stars like Drake, Meek Mill, 21 Savage, Oprah Winfrey, Jared Leto, Tiffany Haddish and Joe Budden.

Tom Hanks' son Chet Hanks received backlash after defending his use of Jamaican Patois on the app.

Kevin Hart also got embroiled in controversy when a room was created with the title 'Is Kevin Hart Funny??

It escalated quickly with Kevin getting dragged for an 'inappropriate' joke about his teenage daughter. Kevin Hart later dispelled the claims against him on Instagram.