Festival Slammed For Charging More For "Non-People Of Colour" Forced To Change After Backlash
9 July 2019, 12:04 | Updated: 9 July 2019, 12:06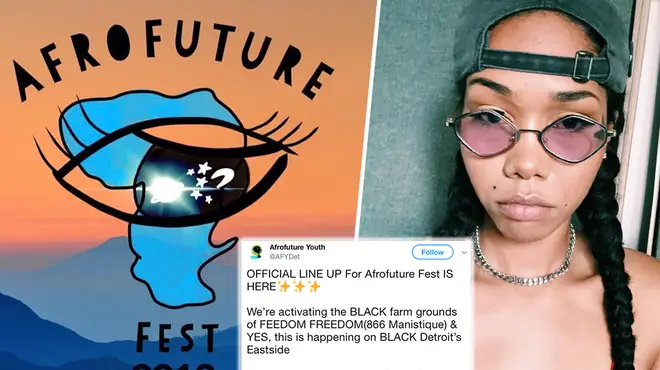 A Detroit Festival has announced they are changing their "POC and NON-POC" ticket model after receiving "white supremacist" threats.
AfroFuture Fest has received a significant amount of backlash after introducing a ticket model which charged a different price for people of colour and non-people of colour.
The festival which is taking place on the 3rd- Aug in Detroit, had been split into different rates - with early bird prices starting at $10 for "people of colour" and $20 for "non-people of colour".
Through the ticketing site Eventbrite, the festival made some "POC" tickets free, which quickly sold out. The organisers previously said the pricing model was made to ensure "the most marginalised communities" were given a chance to attend.
Biracial rapper Tiny Jag, who was on the lineup, refused to perform at the show and demand her name be removed from promotional content.
OFFICIAL LINE UP For Afrofuture Fest IS HERE✨✨✨

We're activating the BLACK farm grounds of FEEDOM FREEDOM(866 Manistique) & YES, this is happening on BLACK Detroit's Eastside

Early Bird POC Tickets are $10 & $20 for NONPOC's & on sale until JULY 17thhttps://t.co/IAiMD22dRy pic.twitter.com/EUgf50EgqN

— Afrofuture Youth (@AFYDet) July 4, 2019
Eventbrite - the website hosting the tickets - said it had asked the organisers to "alter their event accordingly", as its policy does not "permit events that require attendees to pay different prices based on their protected characteristics such as race or ethnicity".
Although Eventbrite asked AfroFuture to alter their event, Afrofuture Youth took to Twitter to reveal the "real reason" on why they chose to change their tickets.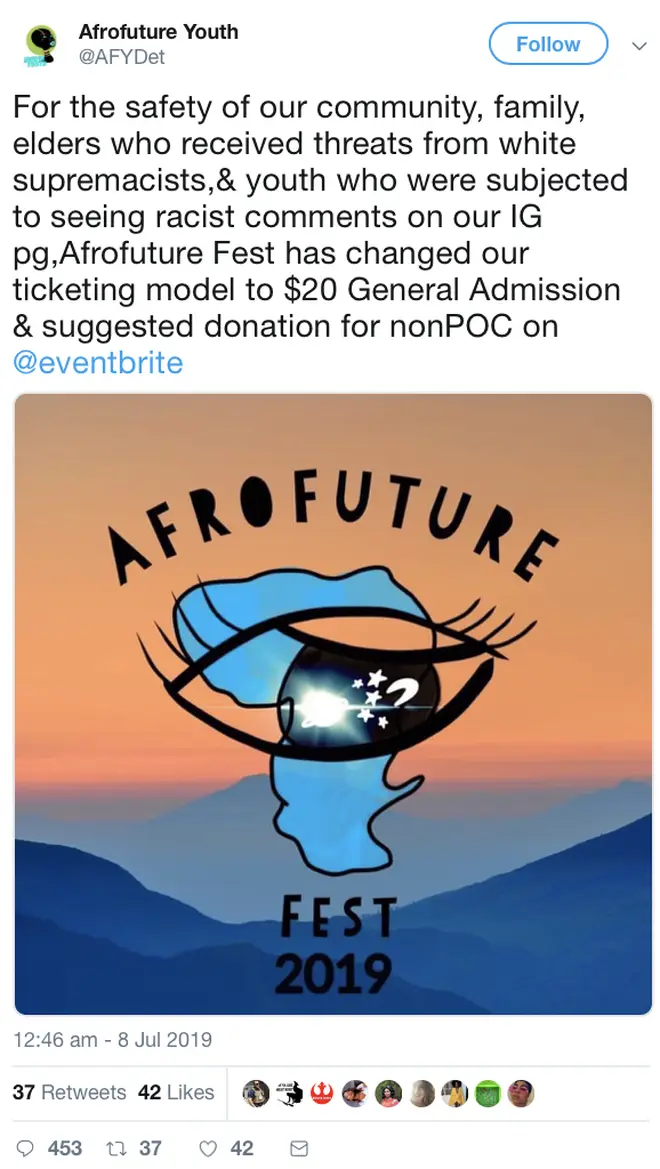 They revealed they changed the ticket model to ensure "the safety of our community, family, elders who received threats from white supremacists" - and to protect young people "who were subjected to seeing racist comments on our Instagram page".
The festival compromised and announced that they changed the ticket model "to $20 General Admission & suggested donation for nonPOC on @eventbrite" via their Twitter account.
See backlash tweets below.
As a native Detroiter, I am shocked, and hurt, at your original pricing based on race. If you want white people to come out and explore African culture, so they can better understand and relate to the black experience, this was NOT the way to encourage them to do so.

— CandyTruong🇨🇦 🇺🇸 (@CandyTruong0122) July 8, 2019
Pro-Tip : They have begun trying to slip in the term "equity" in place of equality hoping people won't realize the difference. Equality means everyone is treated the same. Equity means that they intentionally make an uneven playing field to make up for a perceived disadvantage.>>

— Unknown Uzer (@WillOBlige) July 8, 2019
What do you think ?