Yung Ro: Who is the 'Spin Cycle' rapper ?
11 December 2019, 16:34 | Updated: 18 December 2019, 15:40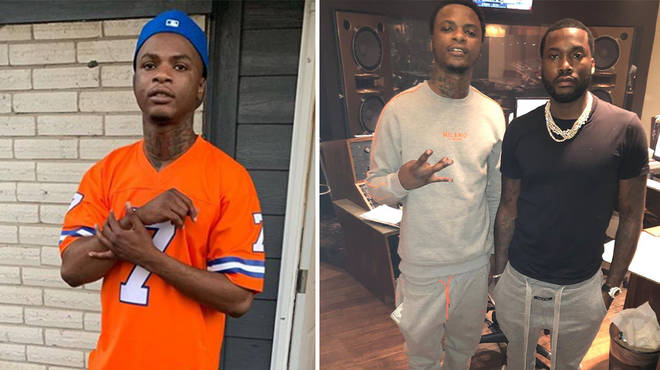 Rising and emerging Houston rapper, Yung Ro, recently got signed to Meek Mill's Dream Chaser Records Label.
Who is Yung Ro ?
Yung Ro, real name, Roland Sato Lee Page, is an African-American hip-hop/rap artist. Yung Ro was his from the city Missouri in Houston, which is a Texas county in the United States.
The "Streetballers" rapper was born in 1991, which makes him 28 years old.
The rapper started out as an independent artist and acquired the position of being the CEO of his own record label, titled "Black Pearl Entertainment".
Yung Ro first became known to many for his single "Donk Dat", which peaked at #3 on Billboards 'Hot R&B/Hip Hop Singles Sales' chart.
How is Yung Ro involved with Meek Mill ?
Yung Ro has been signed to Meek Mill's Dream Chasers imprint.
Dream Chasers Records is an American record label founded by Philly rapper Meek Mill. The label is a joint venture with Roc Nation.
What happened between Yung Ro and Blueface ?
St. Louis-native, Yung Ro recently took to social media to explain his decision against purchasing any fancy jewelry or designer items after inking a deal with the label. Ro made it clear that he is prioritizing his family before material items.
However, Blueface called the "Spin Cycle" rapper out and offered his opinion on Yung Ro deciding to not wear jewellery. Blueface took to Instagram stories, writing "Invest in ya self a chain is more then a chain in this rap sh*t its all about da image it's not about how good you rap or how good you freestyle"
The "Thotiana" rapper continued "it's 2020 it's a popularity contest you get paid based off how cool you look an how much you appeal to your fan base it's a new rapper every every 5 min you gotta sticc if you want longevity in this sh*t y do think people notice if you don't have a chain," wrote Blueface.
He continued "If you sign a deal an you can't afford 50 for a chain an 50 to get yo granny off dialysis an another 100 for to put down on yo momma house you shouldn't have signed that on Cryp" said Blueface.
Yung Ro responded to Blueface's criticism by showing a house he bought for his mother.
In the video, Ro can be heard saying "I'm not gone put you out like Blueface did his momma" referring to a July incident that led to Blueface kicking out his mother and sister from his house.
What is Yung Ro's Instagram ?
You can follow Yung Ro on Instagram with the user ID @yungro777.
What songs has Yung Ro released ?
Yung Ro released a project on October 10th 2019, titled "777". The project includes 7 tracks including Real Sh*t and Real Sh*t part 2. On the 22nd November 2019, Yung Ro released his most popular single "Spin Cycle" which took the internet by storm.
The rapper has also released many songs via YouTube, which include "Go Go" "G Walking" "Frosted Flakes" and many other collaborations with other artists.
What is Yung Ro's net worth ?
According to Celebrity Net Worth, Yung Ro has an estimated net worth of $5 million. However, his net worth in 2020 is speculated to shoot up with his signing with Meek Mill's Dreamchasers.