The Classic 80's Hip-Hop Playlist
3 April 2019, 14:51 | Updated: 7 April 2019, 14:32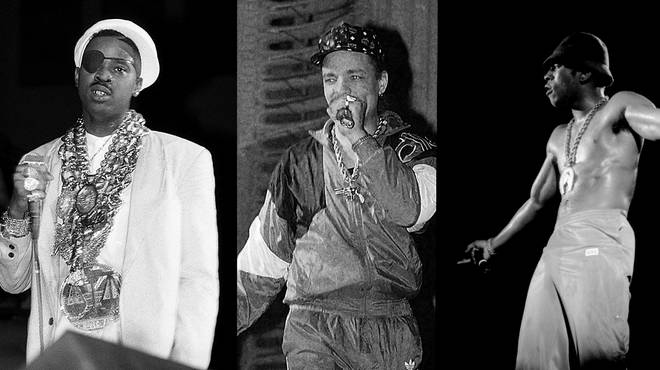 The Classic 80's Hip-Hop Playlist brings you the hottest tracks from the hip-hop golden age...
We're bringing you the best hip-hop joints from the golden age featuring legendary rappers and MC's like Public Enemy, Big Daddy Kane, LL Cool J, N.W.A and many more...
Public Enemy - Fight The Power

"Fight the Power" is a song by groundbreaking American hip hop group Public Enemy. The single was released in June 1989 on Motown Records.

It was conceived at the request of film director Spike Lee, who sought a musical theme for his 1989 film Do the Right Thing. First issued on the film's 1989 soundtrack, a different version was featured on Public Enemy's 1990 studio album Fear of a Black Planet.

Big Daddy Kane

"Smooth Operator" is the lead single released from Big Daddy Kane's second album, It's a Big Daddy Thing.

It is one of Big Daddy Kane's most popular songs. "Smoother Operator" topped the Billboard Hot Rap Singles chart and was a hit on the R&B and dance charts, peaking at number 11 and 17 on the charts.

The song samples "All Night Long" by Mary Jane Girls. Actor and comedian Chris Rock appears in the music video getting his hair cut.

Grandmaster Flash & The Furious Five - The Message

"The Message" is a song by Grandmaster Flash and the Furious Five. It was released as a single by Sugar Hill Records on July 1, 1982 and was later featured on the group's first studio album, The Message.

The Message" was the first prominent hip hop song to provide a social commentary rather than the self-congratulatory boasting or party chants in previous hip hop.

Featuring alternating lead vocals by Melle Mel and Ed "Duke Bootee" Fletcher, the song's lyrics describe the stress of inner city poverty.

Run DMC - Sucker MC's

"Sucker M.C.'s" was released in 1983 by hip hop group Run–D.M.C. It was first released in on a cassette as B-side to "It's like That".

It was Run-D.M.C.'s first known single, which opened doors for their career. Both tracks were collected on the trio's eponymous debut album in 1984.

N.W.A - Straight Outta Compton

"Straight Outta Compton" is the debut studio album by American hip hop group N.W.A. The album was released August 8, 1988 on Eazy-E's record label Ruthless Records. Production for the album was handled by Dr. Dre with DJ Yella.

The album has been viewed as the pioneering record of gangsta rap with its ever-present profanity and violent lyrics.

Straight Outta Compton was made into an biographical drama film in 2015. The film was directed by F. Gary Gray, depicting the rise and fall of the gangsta rap group N.W.A and its members Eazy-E, Ice Cube, and Dr. Dre, which two of them were all involved in the production.

LL Cool J - I'm Bad

"I'm Bad" is the first single from LL Cool J's second album, Bigger and Deffer. It was released in 1987 for Def Jam Recordings and was produced by the production group, The L.A. Posse and LL Cool J himself. Russell Simmons executive producing the single. I'm Bad made it onto several Billboard charts.

Boogie Down Productions - South Bronx

"South Bronx" is a single by Hip hop group Boogie Down Productions from their 1987 debut album Criminal Minded.

The song was produced by Ced Gee, DJ Scott La Rock and KRS-One. The song was a diss track aimed at MC Shan in response to his song "The Bridge" and is part of what became known as The Bridge Wars.

The Sugarhill Gang - Rapper's Delight

"Rapper's Delight" is a 1979 hip hop track by the Sugarhill Gang and produced by Sylvia Robinson. While it was not the first single to include rapping, "Rapper's Delight" is credited for introducing hip hop music to a wide audience.

It was a prototype for various types of rap music, incorporating themes such as boasting, dance, honesty and sex, with the charisma and enthusiasm of James Brown.

MC Lyte - Cha Cha Cha

Cha Cha Cha is a single from MC Lyte's album Eyes on This. It was released on July 3, 1989. almost a year after her classic debut album Lyte as a Rock. Eyes On This produced three hit singles, each of which made it in the top 10 on the Hot Rap Singles chart, "Cha Cha Cha" (#1), "Cappucino" (#8), and "Stop, Look, Listen" (#9)

N.W.A - F*ck Tha Police

"Fuck tha Police" is a protest song by American rap group N.W.A that appears on the album Straight Outta Compton as well as on the N.W.A's Greatest Hitscompilation.

It was ranked number 425 on Rolling Stone's list of the 500 Greatest Songs of All Time. The lyrics protest police brutality and racial profiling.

Slick Rick - Children's Story

"Children's Story" is a song recorded by British-American hip hop artist Slick Rick. The track was released April 4, 1989.

Taken as the second single from Slick Rick's album The Great Adventures of Slick Rick, the song was a Top 5 hit on both the Hot R&B Singles and the Hot Rap Tracks charts.

It is one of the most sampled rap songs of all time.

Ice-T - Colors

"Colors" is a song by Ice-T, issued as the title track for the soundtrack to the film of the same name. The song was released as a single in 1988.

In 2008, it was named the 19th greatest hip-hop song of all time by VH1. The song was Ice-T's first to chart on the US Billboard Hot 100, where it peaked at #70.

Slick Rick & Doug E. Fresh - La Di Da Di

"La Di Da Di" is a song performed by Doug E. Fresh, who provides the beatboxed instrumental, and MC Ricky D (later known as Slick Rick), who performs the vocals. It was originally released in 1985 as the B-side to "The Show".

The song has since gained a reputation as an early hip hop classic, and has been sampled or referenced in numerous other hip hop songs since its release.

Stop The Violence Movement - Self Destruction

The "Stop the Violence Movement" was formed by rapper KRS-One in 1987 in response to violence in the hip hop and African American communities.

After a young fan was killed at a 1987 Boogie Down Productions and Public Enemy show, KRS-One formed the "Stop the Violence Movement" in hopes of encouraging the hip hop community to end violence being committed among themselves.

EPMD - You Gots To Chill

"You Gots to Chill" is the second single by EPMD from their 1988 debut album Strictly Business. It reached number 22 on the U.S. R&B chart.

This song is widely considered to be a hip hop classic and has been paid homage by various rappers who have quoted the lyrics to this song in their own music, including Snoop Dogg and LL Cool J, among others.