The best Dancehall songs of 2020
12 January 2021, 16:14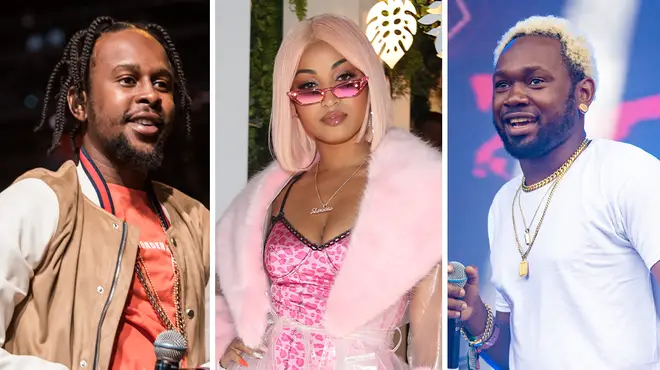 Get in the vibes with the top Dancehall chunes of the year.
Bucke up, as we're bringing you the biggest chunes to come out of the Caribbean islands in 2020.
From legends in the game like Vybz Kartel, Popcaan and Kranium to exciting newer talent such as Daddy1, Shenseea and Jada Kingdom – we've got you covered!
Check out the best Dancehall tracks below.
Dexta Daps - Breaking News

Breaking News - Dexta Daps (Official Audio May 2020)

Masicka, Dexta Daps - Leader

Masicka, Dexta Daps - Leader (Audio Visuals)

Moyann, Teejay - Bruck Pocket Man

Moyann, Teejay - Bruck Pocket Man

Squash - Scotch & Soda

Squash - Scotch & Soda (Official Video)

Shenseea- Limited Edition

Shenseea - Limited Edition (Official Music Video)

Jada Kingdom - Heavy

Jada Kingdom - Heavy! ⚠ Ft. Dj Papis (Official Music Video)

Daddy 1- Trending King

Daddy1 - Trending King (Official Audio)

Prince Swanny - Catch 22

Stylo G - Too Hot

STYLO G - TOO HOT (Official Video)

Aidonia - Me Nuh Care

Aidonia - Me Nuh Care (Official Audio)

Quada, D'Judge - People

Quada, D'Judge - People Official Audio

Popcaan - Numbers Don't Lie

Popcaan - Numbers Don't Lie (Official Audio)

Kranium - In Charge

Kranium - In Charge (Official Music Video)

Mavado - Top Shotta Is Back

Mavado - Top Shotta Is Back (Official Audio)

Vybz Kartel - World Government

Vybz Kartel - World Government (Official Lyric Video) | Prod. Shabdon Records

Govana - Impossible

Govana - IMPOSSIBLE (OFFICIAL LYRIC VIDEO) H.A.M.A.N.T.S.

Alkaline x Black Shadow - Gladdest Night

Alkaline x Black Shadow - Gladdest Night (Cover Video)

Teejay - High Grade

Teejay - High Grade (Official Audio)

Shenseea - Potential Man

Shenseea - Potential Man (Official Audio)

Shenseea - The Sidechick Song

Shenseea - The Sidechick Song (Official Music Video)

Alkaline - Ocean Wave

Alkaline - Ocean Wave (Official Audio)

IQ - Tsunami

IQ -Tsunami [Music Video]

Squash- Loyalty

Squash - Loyalty (Official Audio)

Intence- Yeng

Intence - Yeng (Official Video)

Stylo G - Bamm Bamm

STYLO G - BAMM BAMM (Official Video)

Kranium - Gal Policy

Kranium - Gal Policy (Soul Survivor Riddim) [Official Lyric Video]

Skillibeng Ft Jada Kingdom - Shake (Remix)

Shake (Remix) - Skillibeng Ft Jada Kingdom

Shenseea- Good Comfort

Shenseea - Good Comfort (Official Music Video)

Alkaline - Nuh Wife

Alkaline - Nuh Wife (Official Audio)

Prince Swanny - Catch 22

Vybz Kartel & Squash - Moon Walk

Vybz Kartel, Squash - Moon Walk (Official Video)

Daddy 1 - Anytime

Daddy1 - Anytime (Official Video)

Teejay- Stimulate

Teejay - Stimulate (Official Music Video)

Rygin King - Glu

Rygin King - Glu (Official Video)

Daddy 1 - Pretty Pon Snap

Daddy1 - Pretty Pon Snap | Official Music Video

Jada Kingdom Ft Skillibeng - Tek Ih

Jada Kingdom ft Skillibeng ~ Tek It

Popcorn FT Jada Kingdom - SUH ME LUV IT

Popcaan - SUH ME LUV IT (feat. Jada Kingdom) [Official Audio]

Rytikal - Cookie Jar

Rytikal - Cookie Jar (Official Music Video)

Vybz Kartel Ft Squash - Moon Walk

Vybz Kartel, Squash - Moon Walk (Official Video)