From Kidulthood To Brotherhood: 11 Moments You Need To Remember
19 August 2016, 17:09 | Updated: 11 May 2017, 15:53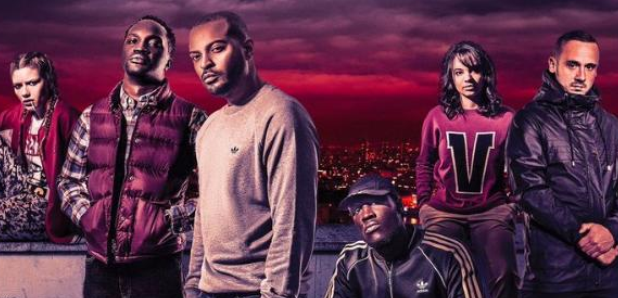 Everything you need to know.
It's been 10 years since Noel Clarke's 'Kidulthood' first graced the big screen and in that time it's become a British classic.
The official sequel 'Adulthood' followed in 2008 and cemented the franchise in the hearts of fans.
Before the release of the third and final instalment 'Brotherhood: The End', we've put together everything you might need reminding of before watching the new movie starring Stormzy, Noel Clarke, Arnold Oceng and more.
Check out all the important facts below:
Kidulthood (2006)
The movie is based around the life of fictional character Trevor 'Trife' Hector:

The London-based teenager is surrounded by negative influences and is torn between a gangster lifestyle and a 'normal' life.

Trife gets bullied by Noel Clarke's gangster character Sam Peel:

Sam is older than most of his peers and abuses his power – intimidating people, selling drugs and stealing.

Trife and his friends try to act 'gangster' in public:
Trife and his crew try to apply their 'hood' attitude to everyday situations resulting in a number of eye-opening revelations.

And eventually beat up Sam Peel in his own house:
The boys get revenge on Sam after he stole one of their Gameboys - and make up for all the times he bullied them at school.

Trife then accidentally gets his girlfriend pregnant:
The plot thickens when Trife's girlfriend Alisa reveals she is pregnant and encourages him to leave the street life alone.

But Sam gets his brutal revenge against Trife:
Just as Trife finally decides to step away from a life of crime, Sam Peel comes after him wanting revenge - ultimately killing the movie's main character (with a baseball bat, in case you forgot!)

Adulthood (2008)
The movie is based around Sam leaving prison and trying to reconcile for killing Trife:

Sam struggles to adjust to the outside world and attempts to confront his demons from the first movie.

But Sam runs into problems...

A group of teenagers are paid to murder Sam - someone wants revenge for what happened to poor Trife in the first movie.

He tries to hunt down the person who hired his assassins but has no luck...

Desperate to find out who is after him, Sam attempts to contact Trife's old friends. But he finds many people have simply moved on with their lives.

Even his own mother has no time for him...

Still visibly hurt from Trife's murder, Sam's mother refuses to accept him back into her life - forcing him to enter the gangster lifestyle again.

So Sam tries to end the drama himself.

After finally finding the person behind the assassins, Sam attempts to take his own life - but fails! After a brutal final fight with one of Trife's friends, the movie ends with Sam battling for his life.
Ready to find out what happens next in 'Brotherhood'?
Watch our exclusive footage of Stormzy in the new movie below:
The film is set for release in cinemas on 29th August.