6 Hip-Hop & R&B Stars Who Turned Their Side-Hustles Into Millions
4 September 2018, 13:39 | Updated: 4 September 2018, 13:41

Promoted by eBay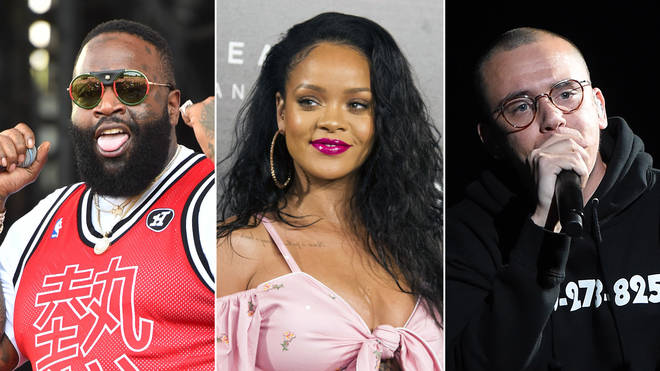 Get inspired!
If you thought your favourite rappers and singers were making their millions from music alone, you're in for a shock.
Because from the likes of Rihanna to Kanye West, the grind never stops for these superstars as they turn their passions into burgeoning businesses.
We all know RiRi transformed the cosmetics industry with her groundbreaking Fenty Beauty brand, but did you know that Logic turned his love of gaming into a money-maker? Or that Rick Ross is changing the world, one haircare product at a time?
Here's how these musical chart-toppers made something very special from their side hustles.
Kanye West - 'Yeezy'

Kanye West in Manhatten, New York on December 13, 2016.

Picture: John Taggart/Pool

After dominating the charts as a Grammy Award-winning rapper, record producer and songwriter, Kanye West began his ascent to the top of the fashion world in 2013 by starting his Yeezy brand. After initially teaming up with Nike in years previous, he later joined forces with Adidas to produce his first drop - named 'Yeezy Season 1'. Since then, his trainers have remained in extremely hot demand, and his clothing has been modelled on the likes of Rihanna, Diddy and his wife Kim Kardashian. As of 2018, the brand is allegedly worth one billion dollars.

Dr. Dre - 'Beats'

Dr. Dre and Jimmy Iovine at HBO's "The Defiant Ones" premiere in Hollywood.

Picture: Sthanlee B. Mirador

If you're in the market for a brand new pair of headphones, you're probably not going to say no to taking some advice from one of the most legendary music producers in the game - enter, Dr. Dre. The rapper teamed up with fellow producer Jimmy Iovine in 2008 to launch their first pair of studio-standard headphones for the commercial market under their Beats Electronics company, in order to share their love of high quality music with the world. Dre later sold the gold-mine company to Apple for $3.2 billion, catapulting his net worth to over a staggering $700 million.

Rihanna - 'Fenty Beauty'

Rihanna demonstrating Fenty Beauty on Instagram.

Picture: badgalriri/Instagram

When Rihanna started teasing her revolutionary make-up line at the end of 2017, the beauty world truly wasn't ready. Featuring an all-inclusive 40-shade collection of foundations, Fenty Beauty catered for every skin tone and women (and men!) all over the world began celebrating their individuality. Not content with cosmetics domination, Rihanna would go on to launch 'Savage X Fenty', a diverse range of intimates designed to match bodies of all shapes, colours and sizes. Turning her fashion icon status into a passion project? Tick.

Rick Ross - 'Rich' Haircare

Rick Ross at the 60th Annual Grammy Awards in New York City, NY on January 28, 2018.

Picture: Anthony Behar/Sipa USA

Rick Ross has arguably one of the best beards in the rap game, so it's only fitting that he turned his iconic trim into a lucrative business venture. At the end of 2017, he launched his own range of luxury beard and hair care products named 'RICH Hair Care', designed for men to keep their grooming at level 100. Ladies are also catered for as the line also includes moisturizers, deep conditioners and more. This, paired with Rozay's already booming investments in various fast food chains, is making him some serious dollar.

Logic - Gaming Channel

Logic.

Picture: @logic/Instagram

When he's not selling out arenas or crafting his next top ten hit, you'll likely find Logic deeply ensconced in a video game. Taking his passion to the next level, he started his own gaming channel on YouTube where he reviews various games and walks viewers through the experience with him. He even incorporated the classic Mario Kart game into his live shows! He's got over a million subscribers on his channel and, considering how much YouTube stars get paid these days, we're guessing he's cashing in.

Nicki Minaj - 'Myx Moscato'

Nicki Minaj.

Picture: @nickiminaj/Instagram

What self-titled reigning 'Queen Of Hip-Hop' would be content with simply chart domination? Not Nicki Minaj, that's for sure. In 2013, she became a part-owner in Myx Moscato, a fruit-infused moscato wine beverage which was created to "revolutionise the wine industry". A Minaj-worthy club appearance or performance wouldn't be complete with the rapstress clutching a bottle of the sweet stuff, and the alcohol industry is about as lucrative as they come (just ask fellow drinks entrepreneurs Jay Z, Diddy and Drake.)
Head over to 

eBay

 and find everything you need for the things you love most! Plus, win £1,000 to spend on your passions thanks to eBay - click here.