13 Of The Most Viral Hip-Hop Dance Crazes Of All Time
11 October 2018, 06:00 | Updated: 11 October 2018, 06:01

Promoted by ITV2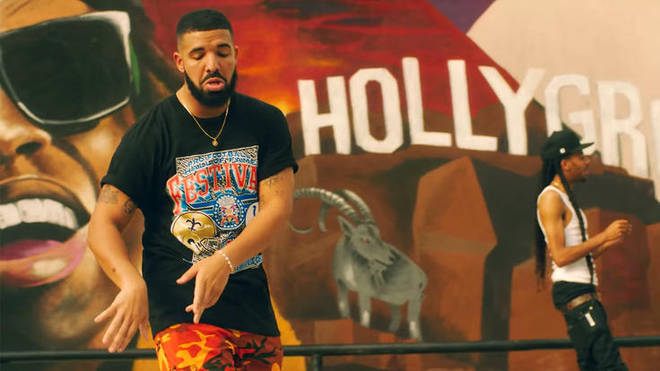 Drake, Beyonce, Migos, Soulja Boy and more have sparked some unforgettable dance moves...
Hip-Hop is currently the biggest musical genre in the world and is also responsible for some of the most viral dance moves.
Throughout the years, Drake, Beyonce, Migos, Soulja Boy and more have coupled their hit singles with viral dance trends that have lasted the test of time.
From the "the dab" to the "crank dat", fans have been showing off their moves and influencing pop culture, since the start of the Internet!
Check out some of Hip-Hop's most viral dance crazes below:
Drake - 'In My Feelings'

Drake's single 'In My Feelings' was responsible for arguably the biggest dance craze of 2018 so far. Instagram comedian Shiggy helped the 'Scorpion' song to reach new heights with a dance known as the "Kiki Challenge" or the "In My Feelings Challenge".

Beyoncé - 'Single Ladies'

Beyonce is one of the biggest artists ever, so it was only a matter of time until she created a dance move that would transcend Hip-Hop culture. In 2008 the former Destiny's Child singer showed off her now famous hand twist move during her 'Single Ladies' music video. The rest is history.

Terror Squad Feat. Fat Joe & Remy Ma - 'Lean Back'

New York rapper Fat Joe was one of the first rappers to benefit from incorporating a popular dance move into a Hip-Hop music video. His now iconic 'Lean Back' chorus accompanied by his shoulder dance move, is still one of the biggest moves in the culture – despite being released in 2004!

Bobby Shmurda - 'Hot Boy'

Bobby Shmurda took over the internet with his infectious 'Hot Boy' dance in 2014. Starting off as a clip on Vine, the popular dance took on a life of its own and saw celebrities, politicians and more, make reference to the unforgettable move.

Soulja Boy Tell' Em - 'Crank Dat'

Soulja Boy was one of the pioneers of the viral Hip-Hop dance move. Back in 2009, the rapper used his early social media influence to introduce the world to his 'Crank Dat' dance move, which led to endless videos of dancers replicating his moves.

Migos - 'Look At My Dab'

Prior to their huge commercial success, Migos introduced the world to one of the most viral Hip-Hop dance moves of all time. The Atlanta trio showed the world how to "dab" by raising their arms to their face. Since their official 'Look At My Dab' music video was released in 2015, most music fans have attempted the move.

Silento - 'Watch Me (Whip/Nae Nae)'

Silentó had the world attempting to "whip" and "nae nae" with his infectious dance moves in 2015. The rapper even released a YouTube tutorial for his fans that racked up millions of views!

2 Milly - 'Milly Rock'

Rapper 2 Milly burst onto the Hip-Hop scene in 2014 with his viral Hip-Hop dance move, the "milly rock". The infectious move involves doing a simple two-step, combined with an arm swinging and hip swaying movement. A number of sports star continue to use the popular dance as a celebration in 2018.

New Boyz - 'You're a Jerk'

Los Angeles Hip-Hop duo New Boyz took over social media by incorporating local dance craze "Jerkin" into their catchy 2009 single 'You're A Jerk'.

Drake - 'Hotline Bling'

Drake sparked his own Hip-Hop dance craze when he released the anticipated footage for 2015 single 'Hotline Bling'. The OVO rapper showed off his now-iconic dad dancing in a variety of different outfits. The official music video currently has over 1 billion views on YouTube.

GS Boyz - 'Stanky Legg'

In 2009, Texas-based rappers GS Boyz kickstarted their own creative Hip-Hop dance move called the 'Stanky Legg'. The viral move went viral for its simplicity and helped the song reach no.17 on Billboard's Hot R&B/Hip-Hop songs chart.

Cali Swag District - 'Teach Me How to Dougie'

Cali Swag District literally taught fans how to "dougie" with their infectious 2010 crossover single 'Teach Me How To Dougie'. The dance went on to dominate the Internet and become one of the biggest Hip-Hop dance crazes ever.

iLoveMemphis (formerly iHeartMemphis) - 'Hit the Quan'

Tennessee rapper iLoveMemphis kicked off the viral dance craze 'Hit The Quan' in 2015. However the dance move really became popular when rapper Rich Homie Quan did the move in his 'Flex' music video. The craze involves swinging your hips and your arms.
Don't Hate The Playaz starts tonight at 9pm on ITV2.