Beyoncé new album 'Renaissance' 2022: release date, title, features & more
21 June 2022, 11:15
Beyoncé is dropping a new album this year! This is not a drill!
Beyonce fans, get ready - the superstar is officially dropping her seventh album this year.
Six years after the release of her last studio album Lemonade, Bey has announced the first part of her new album, titled Renaissance, will drop on July 29.
The long-awaited 16-song project includes 'act i', so fans can assume at least one more act is planned for release after this initial drop. A box set is available to pre-order here and includes a CD, T-shirt, a 28-page photo booklet, and a mini poster.
Bey has been teasing new music for a while now, and earlier this year, Sony Music's CEO has confirmed the star will be dropping the album in 2022.
At the end of March, Queen Bey opened the 94th Academy Awards performed a breathtaking rendition of 'Be Alive', which was nominated for Best Original Song at this year's ceremony.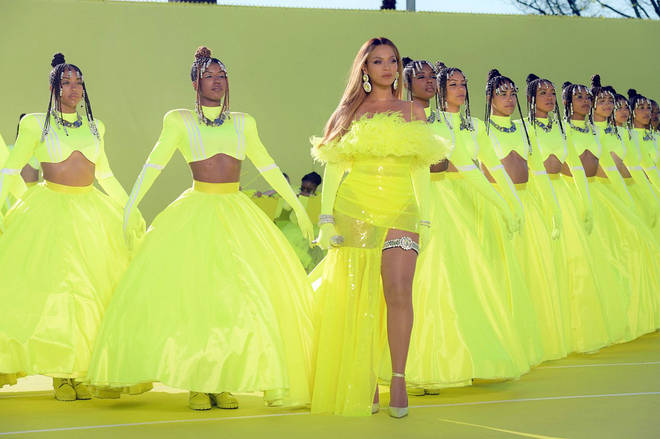 The track is in the 2021 biopic film King Richard that starred Will Smith who won the Best Actor award for his portrayal as Venus and Serena Williams' father, Richard Williams.
For the performance, the superstar and her dancers (which included her daughter Blue Ivy) wore vibrant neon yellow outfits as they performed at a tennis court in Compton, where the Williams sisters were coached by their father when they were young.
Hitting the stage for the first time in 5 years, fans couldn't contain their excitement for the star, the performance, and the new music coming.
In an August 2021 interview with Harpers Bazaar, Bey herself confirmed "yes the music is coming!". Here's everything we know about the upcoming project.
What's the tracklist for Beyoncé's new album?

Beyoncé kicked off her new era with the release of 'Break My Soul', the first single from Renaissance, on 21st June 2022.

The single is a house-infused summer banger and fans couldn't get enough of it following its release!

Beyoncé has included 16 tracks on 'act i' of Renaissance, with potentially more to come on the future parts.

When is Beyoncé dropping her new album, Renaissance?

Beyonce's new album, Renaissance, is dropping on July 29th, 2022.

The singer announced the news via TIDAL a month prior to the record's release.

The week before, fans lost it after they noticed that Bey had changed her avatars on all of her social media platforms to a blank image.

The superstar removed her profile photo for her Instagram, Twitter and YouTube, and fans immediately thought the star was gearing up to drop her new album.

What can fans expect from Beyoncé's new album?

In her July cover story with Vogue, Beyoncé played her new album to Editor-in-Chief Edward Enninful, who said this of the record:

"Soaring vocals and fierce beats combine and in a split second I'm transported back to the clubs of my youth. I want to get up and start throwing moves. It's music I love to my core."

"Music that makes you rise, that turns your mind to cultures and subcultures, to our people past and present, music that will unite so many on the dance floor, music that touches your soul. As ever with Beyoncé, it is all about the intent."

Beyonce confirmed "Yes, the music is coming!". Picture: Getty

Soon after the album was announced, Variety reported that the record will feature both 'dance and country-leaning' tracks.

Hit songwriter Ryan Tedder, who co-wrote Bey's 2008 hit 'Halo', is reportedly behind some of the music on the album, as well as Raphael Saadiq, who has crafted hits for Mary J. Blige, D'Angelo, Stevie Wonder, John Legend and Andra Day - AND executive-produced A Seat at the Table, Beyoncé's sister Solange's 2016 album.

The mother of three previously touched on some of her musical inspirations, saying: "With all the isolation and injustice over the past year, I think we are all ready to escape, travel, love, and laugh again,".

She continued, speaking on the purpose of her next project, sharing: "I feel a renaissance emerging, and I want to be part of nurturing that escape in any way possible.

The 'Six Inch' singer touched on her musical creation process, saying: "Sometimes it takes a year for me to personally search through thousands of sounds to find just the right kick or snare".

"One chorus can have up to 200 stacked harmonies" she continued.

Beyonce proceeded to speak on her artistry, saying "still, there's nothing like the amount of love, passion, and healing that I feel in the recording studio."

"After 31 years, it feels just as exciting as it did when I was nine years old" she continued, before concluding "Yes, the music is coming!".

What will Beyoncé's new album be called?

Beyoncè's seventh album is titled Renaissance.

The singer has been working on new music for a year. Picture: Getty

Who will feature on Beyoncé's new album?

The star is yet to reveal whether her upcoming album will have any features.

This page will be updated as more information becomes available.