Beyoncé Fans Hilariously React To Her 22 Day Weight Loss Diet For Coachella
25 July 2019, 13:50 | Updated: 25 July 2019, 13:51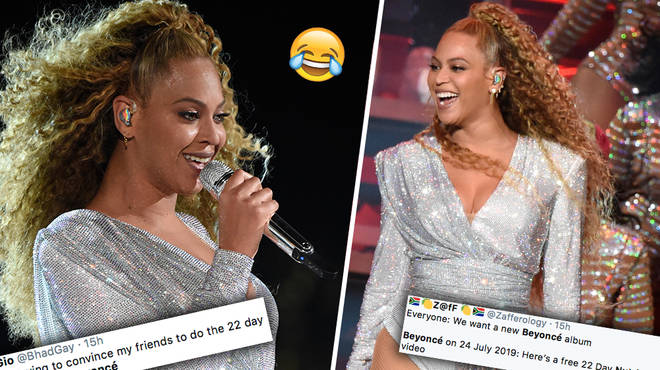 The Queen Bey's fans have hilariously reacted to her 22 day nutrition diet video that the star released on YouTube. Twitter is the place for top notch jokes...
Beyoncé fans have hilariously reacted to the singers new video, where she reveals her 22 day nutrition diet to get in shape for her 2018 Coachella performance.
The video explains how Bey achieved her weight loss by going on a strict plant-based diet called 22 Days Nutrition.
On Wednesday (Jul 24) Beyoncé, 37, shared a very intimate video on YouTube, where the star documents her strenuous fitness journey.
At the beginning Bey can be heard saying "Good morning, it's 5 a.m., and this is day one of rehearsals for Coachella," as she steps on a scale revealing her weight.
She continues "Every woman's nightmare… this is my weight, 175. Long way to go," she shares. The superstar singer was set to perform at 2017 Coachella, however, "unexpectedly" became pregnant with her twins Rumi and Sir.
Beyonce revealed she was 218 lbs the day the twins were born, so she was determined to lose weight for her return to Coachella in April 2018.
Physiologist Marco Borges and founder of 22 Days Nutrition who trained Bey, revealed "We're going to go 100% plant-based from now through Coachella."
The meal plan includes a fresh, organic menu that offers recipes like cauliflower soup, Thai-inspired salad as well as protein breakfast bars and smoothies.
Would you be up for the 22 Nutrition Program ? See what Bey's fans think of the nutrition plan below.
I get notifications that Beyoncé has released a new video and it's a 22 days nutrition video 😭
I ain't gonna say nothing cause we've been eating lately but damn pic.twitter.com/pwOxC9MokX

— Phalou (@ndiaye_phalou) July 24, 2019
watching Beyoncé's 22 Days Nutrition made me feel like I need to go out and eat some tomatoes

— Rachel Su'a (@raselasua) July 24, 2019