Judge Orders 'Broke' 50 Cent To Explain Instagram Photos Of Cash
22 February 2016, 13:24 | Updated: 22 February 2016, 14:06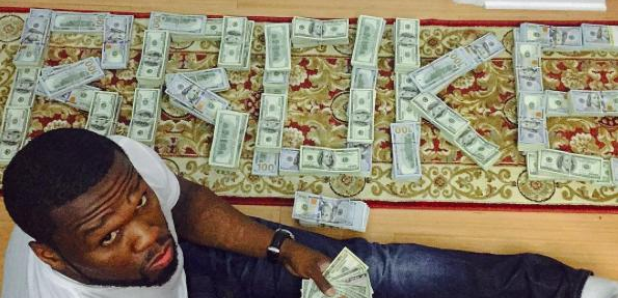 Looks like flashing cash on Insta has got Fiddy in hot water
A bankruptcy judge has ordered 50 Cent to appear in court to explain photos he posted on Instagram of himself posing with stacks of cash.
Curtis J. Jackson III filed for bankruptcy in July, after being hit with two lawsuits totalling $29m.
Judge Ann Nevins said the 'Get Rich or Die Tryin'' rappers's social media raised questions about whether he is being truthful about his financial situation.
"I'm concerned about allegations of nondisclosure and a lack of transparency in the case," Nevins told Curtis's laywer at a hearing on Thursday (February 18).
"There's a purpose of having a bankruptcy process be transparent, and part of that purpose is to inspire confidence in the process."
Curtis has routinely poked fun of his bankruptcy in a series of posts on social media. In one Instagram photo the rapper spells out the word "BROKE" in stacks of $100 bills.
Another photo shows him lying on a bed surrounded with cash. "Ok I found my legs, but I can't find nothing to watch on TV," writes Curtis in the caption.
The photos were brought up in court papers filed in January by headphone maker Sleek Audio, SunTrust Bank (STI) and 50 Cent's ex-girlfriend Lastonia Leviston, who say they're owed a combined $29m.
The claimants also allege that Curtis has not disclosed fees from recent public performances and a property he owns in Africa, which the rapper made reference to a tweet.
My crib is almost finished in AFRICA. I'm gonna have the craziest House warming party ever. I'll… https://t.co/eZXiYL8jpn

— 50cent (@50cent) September 5, 2015
In a statement, the rapper's legal team said that he would appear in court "to make sure that all questions have been addressed."
Mr. Jackson has been forthcoming and transparent with all creditors."