Eminem Reveals The Reason He Dissed Machine Gun Kelly Wasn't Over His Daughter Hailie
12 September 2018, 10:51 | Updated: 18 September 2018, 15:19
The rapper opened up during a sit-down interview with Sway.
Eminem has broken his silence following the aftermath of his explosive new album, 'Kamikaze'.
The Detroit rapper dropped the unexpected record to the surprise of the music world at the end of last month. It stirred up a whole load of beef, both fresh and old, as Shady threw shots at a number of his peers.
And Cleveland rapper Machine Gun Kelly was one of them. Kelly made comments in the past about Eminem's daughter Hailie - at one time calling her "hot as f**k" - which many assumed to be the reason behind his diss.
However, during a new interview with Sway Calloway, Eminem revealed that this wasn't exactly the case, adding that his actual reason is "a lot more petty."
"You know you go down the wormhole of YouTube and whatever, right?" said Eminem. "So I see, 'Machine Gun Kelly talks about Eminem's daughter' or whatever, right? So I'm like, 'What the f**k?' I clicked on it."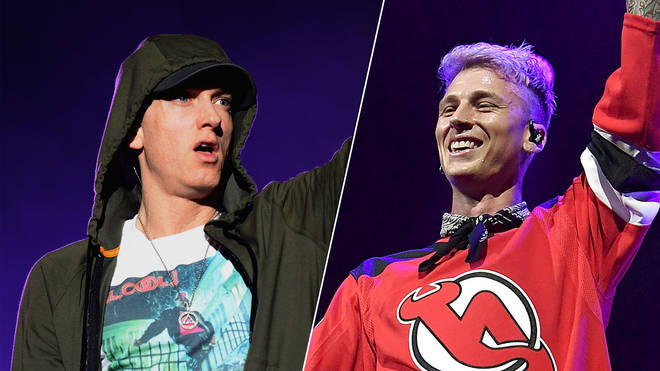 He continued, "Then he starts doing a press run, basically, about Hailie. I'm like, 'What the f**k? Yo, my man better chill.' So, that's not why I dissed him. The reason I dissed him is actually a lot more petty than that."
"Now I'm in this f**king weird thing, because I'm like, 'I've got to answer this motherfucker.'" he added, seemingly confirming that a response to MGK's infamous 'Rap Devil' diss track is on the way.
Watch Part One of the interview above. In Part Two, the "petty" reason behind Eminem's MGK diss will be revealed.
Elsewhere during the interview, the Grammy Award-winner discussed his 2017 album 'Revival' and the criticism it received, both before and after it's release.
"I feel like giving them no warning was the best thing to do," he said, nodding to the release of 'Kamikaze', "When the 'Revival' tracklist came down the pipe, it was overwhelmingly, 'This s**t is going to be trash.'
"Nobody really wanted to be wrong about it. A lot of people had already formed their opinions."
"I remember a time in hip-hop where you had to be so different from the next person, or you were trash," he added, "There was a shift somewhere that happened that if it doesn't sound like everything else, then it's trash automatically."
Following the release of 'Kamikaze', a whole host of rappers alongside MGK responded to their disses including Lupe Fiasco, Joe Budden, Lil Pump, and Ja Rule.