Here's How Eminem's Diss Track Against Machine Gun Kelly Is Sounding
5 September 2018, 12:51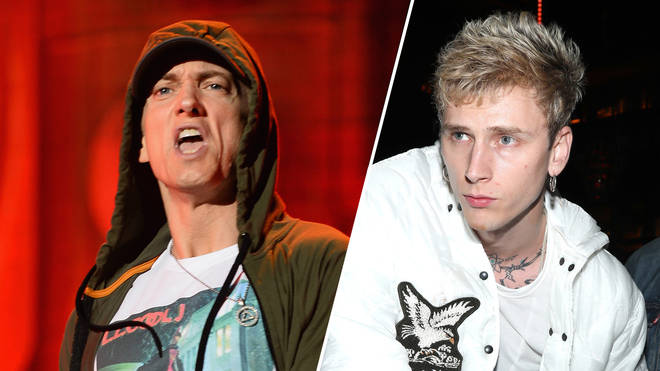 Has MGK started something he can't finish?
Earlier this week, Machine Gun Kelly unleashed a diss track against Eminem after the 'Lose Yourself' rapper slammed him on his new album 'Kamikaze'.
Eminem named-and-shamed Kelly for tweeting about his daughter Hailie back in 2012, which caused Kelly to fire back with a scathing attack on his former idol on his track 'Rap Devil'.
And it sounds like Eminem has already got a response on the way, according to his frequent collaborator and hit producer Mr. Porter.
Speaking to Skoglund16 TV, Porter explained that, while Eminem was working on something else in the studio at the time, he wouldn't want to be in Kelly's shoes this time around.
"We doin' something else right now but trust me, we'll get to it," he said. "I'll tell you this. I wouldn't want to be [Machine Gun Kelly]. Like it's great that you took the opportunity and you did that. Hey, kudos to you, good for you."
As Porter continued, he compared Shady to Avengers character Thanos and alluded to an explosive diss track.
"Here's what I'm worried about. Did ya'll see the Avengers movie? When Thanos threw the whole planet? I'm worried about him breaking the planet in half and throwing it at somebody."
He added, "The real thing is, 'Oh okay, let Joe [Budden] say something.' Let anybody else say something and he take everybody out at once. That'll happen."
Eminem is yet to respond to the comments, so we'll have to wait and see. Meanwhile, Tekashi 6ix9ine became the latest rapper to retaliate against the Eminem - despite the fact that he wasn't actually name-checked on the album.