Machine Gun Kelly Responds To Eminem With Savage 'Rap Devil' Diss Track
4 September 2018, 10:31 | Updated: 4 September 2018, 10:39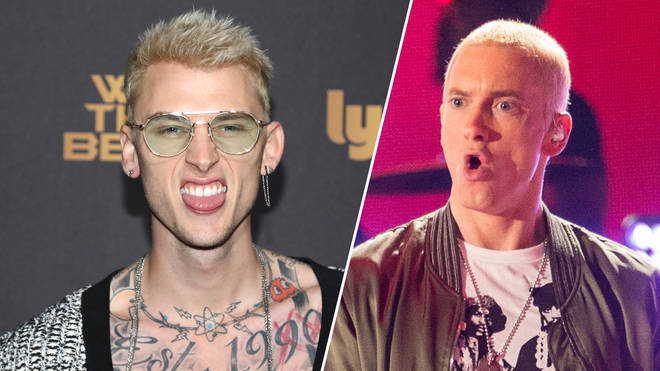 Listen here.
Machine Gun Kelly was one of the many rappers Eminem fired shots at on his new album 'Kamikaze' - and he's hit back.
The 28-year-old rapper, real name Richard Colson Baker, has unleashed his own diss track titled 'Rap Devil' in response to Shady's bars on his new song 'Not Alike'.
Kelly launched a scathing attack on his former idol via Twitter before releasing the song, which sees Kelly claim Eminem's music has fallen off in recent years.
"I see momma's spaghetti all over your sweater, I wish you would lose yourself on the records that you made a decade ago, they were better," he spits. Listen to the track below.
"I'm standing up for not just myself, but my generation," Kelly wrote on Twitter. "I'm doing the same sh*t you did back in ur day. Life is still real on my side, and I had to take time from the grind to defend myself from someone I called an idol. Love, Rap Devil."
"You should go back to Recovery, I know your ego is hurting just knowing that all of your fans discovered me," Kelly raps on the new joint, before claiming that Shady was too "scared to ask Rihanna for her number."
The beef between Eminem and Kelly goes all the way back to 2012, after Kelly tweeted that Eminem's daughter Hailie was "hot as f**k."
On 'Not Alike', Eminem addressed Kelly's comment, saying: "And I'm talking to you but you already know who the f**k you are, Kelly / I don't use sublims and sure as f**k don't sneak-diss / But keep commenting on my daughter Hailie."
Eminem is yet to respond to Kelly's diss, but fans are already debating who is winning the rap war so far.