Did Eminem Copy Danielle Bregoli On His New Album 'Kamikaze'?
7 September 2018, 10:27 | Updated: 7 September 2018, 10:30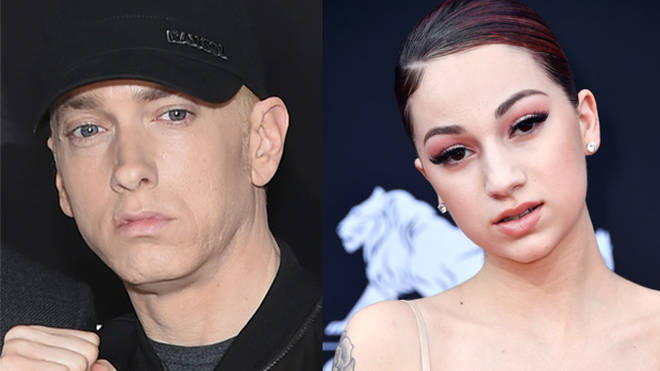 Fans have been comparing the songs by Danielle Bregoli and Eminem on social media...
Eminem is being accused of copying 'Cash Me Outside Girl' Danielle Bregoli on his surprise new album 'Kamikaze'.
Fans are claiming that Slim Shady has taken inspiration from Bhad Bhabie's song 'Hi Bich' for a new song called 'Not Alike'.
Eminem is facing lots of angry responses from Tekashi 6ix9ine, Machine Gun Kelly, Joe Budden, Ja Rule and more following the release of his latest album.
However 15-year-old Danielle Bregoli has now been brought into the viral debate around Eminem, despite not being mentioned on the project.
Fans have been comparing the two songs on social media and showing similarities.
Eh has Eminem actually ripped off one of that 'cash me outside' lasses songs for his new album tho??? 😂 NOoooo Em, why 😂😂😂 #ShanStan

— KK (@KFKennedyx) September 6, 2018
Damn Eminem really was using Cash Me Outside's flow on his album... What is going on

— Oran Juice Jones (@KingPegs) September 6, 2018
OMG!!! Eminem's jackin cash me outside girl style, luckily MGK didn't mention it in his latest single, because if he does, there's no coming back from that. Well Em did get bodied by MGK with a 🔥🔥🔥 ass record so there's no need to be specific.

— Emily'nandez (@NandezEmily) September 6, 2018
There's actually people who think @Eminem copied @BhadBhabie... 😂😂😂 No. It was ripping the flow from Gucci Gang taking the piss out of it. Jesus christ.

— Shamen Sangwine (@ShamenSangwine) September 7, 2018
Lmao! @BhadBhabie is accusing @Eminem 💖 of ripping off one of her songs. Like he needs to do that. I guess Bhad is gonna get her 15 minutes now. That's one way to do it if noone knows who you are. See, plan is working already. We are talking about her. Good job lol 😂

— Josh Hayden (@JoshHaydenJH) September 7, 2018
No why the fuck would Eminem steal from a 12 year old who can't rhyme or think straight to save her life. Eminem was world famous before she was even born yet. So no. He didn't

— Psychotic (@HoaxPsychotic) September 7, 2018
After seeing the speculation, Danielle Bregoli told her fans that she'll "take that as a compliment."
Eminem is yet to respond to the comparisons with Bregoli and also hasn't addressed any of the angry disses aimed in his direction following his 'Kamikaze' album.
However it has been confirmed that Eminem is now back in the studio working on new music, with rumours that he is working on a Machine Gun Kelly diss track.