Machine Gun Kelly Responds To Eminem Diss By Popping A Bottle Of Champagne
1 September 2018, 16:56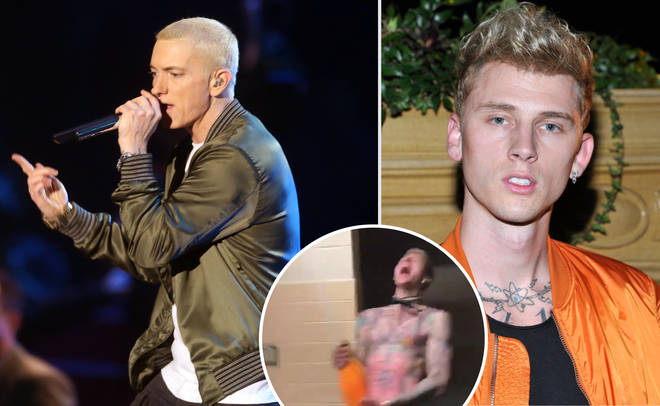 Well, that's one way to celebrate a diss from Eminem.
Eminem's surprise drop 'Kamikaze' landed on Friday August 31. On the release, the veteran rapper took aim at the likes of Drake, DJ Akademiks and Lil Yachty. He also name dropped Machine Gun Kelly on "Not Alike", referencing a 2012 comment the Cleveland rapper made about his daughter Hailie.
Machine Gun Kelly has since responded to the call out, posting a video of himself on Instagram listening to the lyric and popping a bottle of champagne.
On 'Not Alike' Eminem addresses MGK, rapping:
But next time you don't gotta use Tech N9ne.
If you wanna come at me with a sub-machine gun.
And I'm talkin' to you, but you already know who the f**k you are, Kelly
I don't use sublims and sure as f**k don't sneak-diss
But keep commentin' on my daughter Hailie.
The young rapper appeared to take it all in stride, smiling at the reference from the veteran and captioning the video with a purple demon emoji.
In 2012, MGK referred to Eminem's daughter as "hot as f**k" in a tweet, leading him to later speculate that he had been blacklisted by some in the industry for this comment. MGK had also called Eminem "king" in the same tweet.