James Corden Kicks Off Epic Rap Battle, Gets Completely Slayed By Anne Hathaway
26 May 2016, 11:16 | Updated: 26 May 2016, 11:24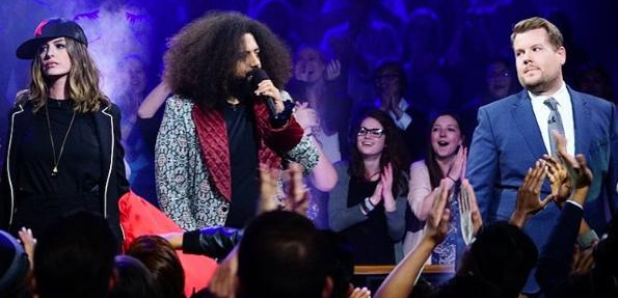 Better than Carpool Karaoke?
James Corden often makes headlines for his hilarious Carpool Karaoke skits but his latest rap battle with actress Anne Hathaway is one of his greatest moments ever.
The chat show host introduced a new segment to his 'Late Late Show' called 'Drop The Mic' and appeared to bite off more than he could chew.
Taking on Anne Hathaway in a hilarious rap battle, the pair took turns to rip into each other with a range of hilarious disses.
"Now that I finally have a chance to speak, I say your rhymes are like your ratings they're incredibly weak!" raps Hathaway over a beat box.
"Blimey gov'nor did my accent make you sick, or are you allergic to wearing suits that fit?" she adds.
Watch the epic '8-Mile' themed battle below:

Corden hit back at Hathaway by mocking her attempt at a British accent in 2011 film 'One Day', claiming that Halle Berry was a better Catwoman than her and questioned her rap skills.
Although the whole battle was in good humour, some of the insults must have hurt a little – such as when Hathaway compared Corden's body to a KFC bucket with a lot of extra breasts.
Corden's new skit 'Drop The Mic' accompanies his current Carpool Karaoke series.
The British host has had stars such as Adele, Sia, Jennifer Lopez and more in his famous car.