20 Of Jennifer Lopez's Best Songs
24 August 2018, 15:43 | Updated: 24 August 2018, 15:46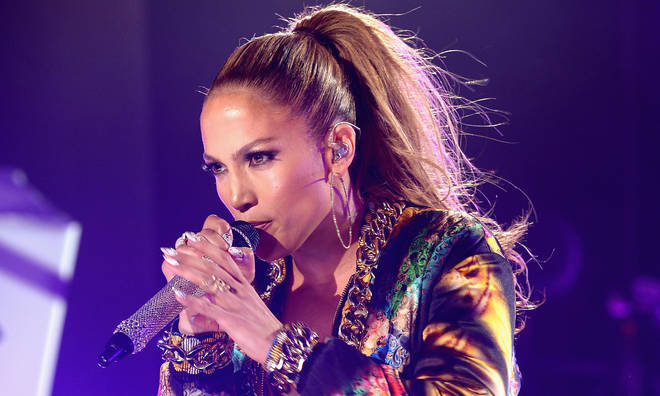 Time to celebrate the Bronx Queen.
Often regarded as one of the most influential Latin performers in history, Jennifer Lopez is a true entertainment icon.
The award-winning singer, actress and dancer is as decadently glamorous and she is unapologetically real and, since her breakout in the 90's, remains a permanent fixture on the charts to this day.
After her era-defining debut 'If You Had My Love' peaked at the number one spot in 1999, Bronx native Jenny would go on to score countless platinum-selling albums and number one hit singles.
Ready to take a trip down memory lane? Press play below to check out 20 of JLo's biggest hits.
'On The Floor' Feat. Pitbull

Jenny takes us to the club with this EDM-flavoured banger. Backed by dancefloor regular Pitbull, 'On The Floor' carries with it an unstoppable, euphoric energy and went on to achieve huge commercial success.

'Love Don't Cost A Thing'

Lopez kicked off the early noughties with a little taste of Hip-Hop. 'Love Don't Cost A Thing' would see the star take aim at materialistic love, - this sassy hit was paired with an equally iconic music video.

'Get Right'

As soon as that looped saxophone sample kicks in, you know exactly what's in store. 'Get Right' is an empowering R&B bop with an infectious hook, and always goes down a treat.

'Jenny From The Block'

When you think of Jenner Lopez, 'Jenny From The Block' is usually one of the tracks that springs to mind. Proudly paying homage to her roots, Jen made it clear that she wasn't changing for anyone.

'Ain't Your Mama'

If you're on the hunt for your new girl power anthem, look no further than 'Ain't Your Mama'. Lopez is done with taking care of her man; she's hitting back with a dancehall-inflected banger and an incredibly catchy hook.

'Waiting For Tonight'

What a classic! Lopez proves she's a cross-genre songstress as she lends her vocals to this Latin House tune. The iconic song even earned her a nomination for Best Dance Recording at Grammy Awards in 2000.

'I'm Into You' Feat. Lil Wayne

An island-tinged banger was well-and-truly delivered by Jen with 'I'm Into You'. Featuring a verse from seasoned rapper Lil Wayne, J. Lo unlocked the key to Summer '11 with this sultry, mid-tempo hit.

'I'm Real' (Murder Remix)

It's official - this collaboration is the epitome of early noughties culture. Jen's pink velour Juicy tracksuit and her honey-smooth voice, Ja Rule's headband and his gravelly bars... it's a vision.

'All I Have' Feat. LL Cool J

Jen and LL Cool J were way into their feelings in this '02 heartbreak anthem, which went on to score them a number one. Who could forget those iconic furry coats and Lopez's lipgloss-drenched pout?

'If You Had My Love'

A dazzling highlight from her debut album, 'If You Had My Love' is widely considered one of Jen's greatest R&B songs, if not one of her best overall. Fun fact: it was almost recorded by Michael Jackson. He loved the song, but thought it would be better suited to a female singer.

'Let's Get Loud'

Originally written and recorded by Gloria Estefan, this sassy salsa song was later passed on to Lopez and became one of her defining hits. Another Grammy nomination in the bag, no less.

'Papi'

One of her more recent chart-toppers, 'Papi' is a Latin-electro fusion and it's impossible not to dance to. A captivating chorus, a memorable hook and a floor-filling house vibe crank this track up a notch.

'Do It Well'

If there's one thing Jennifer Lopez does well, it's churning out dance-inducing bangers. 'Do It Well' is full of big instrumentals - we're talking brass, percussion, disco sirens, the lot - and it remains a fan favourite.

'Ain't It Funny' Feat. Ja Rule & Cadillac Tah

Ja Rule and Jenny reunite once again on another remix, this time with a braggadocios Ja at the helm. The pair trade verses on the revised track, which has been given a silky R&B upgrade.

'Play'

This fun-loving hit is seriously underrated. A dance-pop banger released in 2001, the futuristic synths and spacey music video are strangely nostalgic - props if you noticed co-writer Christina Milian singing the background vocals.

'I'm Glad'

Jen turns up the heat with this smooth, uptempo R&B ballad. Aside from it being an undeniable bop, fans may remember the song for a different reason - its red hot music video.

'Live It Up' Feat. Pitbull

We're all guilty of loving a Pitbull and Jennifer Lopez collaboration, whether you like to admit it or not. They always go off! 'Live It Up' serves Euro-pop vibes and was a 2013 summer success.

'I Luh Ya Papi'

The song's great, sure, but it's the visuals for 'I Luh Ya Papa' that really catapult it into the top 20. Jennifer turns the tables on the age-old 'video vixen' mentality, spending the majority of the video surrounded by a bevy of shirtless men,

'Dinero' Feat. DJ Khaled & Cardi B

Jen, Cardi and Khaled want cash and they want it now. The hit-making trio fired up a huge summer sensation with their Latin-inspired moneymaking anthem.

'El Anillo'

And, of course, it wouldn't be a Jennifer Lopez playlist without a spicy Latin Pop single to round off the list. A funky Brazilian beat wraps itself around Lopez's delicate vocals on this commercial hit.