Why did Rihanna, Drake & Nicki Minaj unfollow Megan Thee Stallion on Instagram?
22 March 2022, 16:07 | Updated: 23 March 2022, 16:42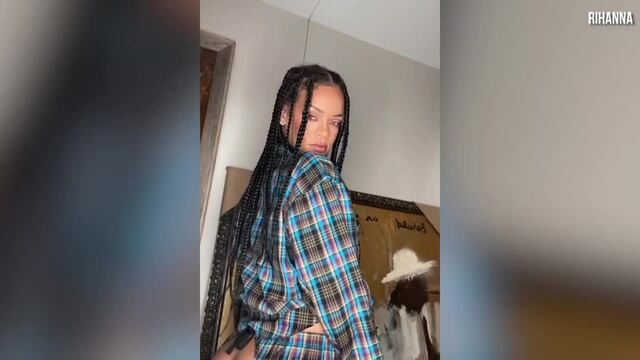 Rihanna launches risqué Savage x Fenty pyjamas
The Houston Hottie has reportedly been unfollowed by Rihanna, Drake, Nicki Minaj, Ciara & more on social media.
Megan Thee Stallion has been unfollowed on social media by several artists and fans are wondering why.
The Houston Hottie has reportedly been unfollowed by fellow rappers Drake and Nicki Minaj and singer Rihanna. Here's what we know so far...
Why did Rihanna unfollow Megan Thee Stallion?

In October 2020, Megan Thee Stallion became a Savage X Fenty brand ambassador having joined the likes of Paris Hilton, Normani, Bella Hadid, and many other celebrities.

However, in March 2022, news that Rihanna had unfollowed Megan Thee Stallion blew up on social media days after discovering that the rapstress is no longer a brand ambassador for Savage X Fenty – Rihanna's lingerie brand.

It was initially revealed when fans noticed Megan's whole collection was deleted off of the Savage X Fenty website and her name was nowhere to be found.

Throughout 2020 and 2021, the 'Savage' rapstress promoted Rihanna's Savage X Fenty in a string of photo shoots for the lingerie line.

However, many fans have pointed out that some of the Savage X Fenty shoot images have been deleted from Megan's Instagram.

While Megan nor Rihanna have publicly commented on their dispute or why they have unfollowed each other on social media, some fans came up with theories.

Rihanna has removed her SavagexFenty collab with Megan Thee Stallion from her website and unfollowed her

Drake also has unfollowed Meg… pic.twitter.com/lCkbMu17ce

— mercy💥☔️⁶𓅓 (@horriblemercy) March 16, 2022

It is rumoured that Rihanna unfollowed Megan over accusations that A$AP Rocky cheated on the 'Work' singer with Megan at some point during their relationship.

According to BlackTeaBlog, the 34-year-old songstress has felt uncomfortable around Megan for a long time due to Rocky's and Megan's alleged connection.

I also think Rihanna unfollowed megan thee stallion because Mrs megan did not say congratulations to rhianna on her pregnancy and that's the truth I fear

— 🐻 (@santan_childish) March 16, 2022

Why did Drake, Ciara, Nicki Minaj and Teyana Taylor unfollow Megan Thee Stallion?

According to Aceshowbiz, shortly after Rihanna unfollowed Megan, fans realised that Drake, Ciara and Nicki Minaj had also unfollowed her.

While there is no concrete confirmation as to why the celebrities have unfollowed Megan, the general consensus amongst fans on social media suspect it has something to do with her incident with Tory Lanez.

Drake and Rihanna have both unfollowed Megan Thee Stallion on Instagram as multiple social media users point out, Rihanna has also removed her from her Fenty website.👀 pic.twitter.com/J2YiINj27t

— Pop Faction (@PopFactions) March 17, 2022

In July 2020, Megan and Tory Lanez got into a heated argument which allegedly resulted in him shooting her in the foot.

The incident occurred after the pair left Kylie Jenner's house party, where the pair got into a spat in the car, with Megan's ex-best friend Kelsey.

Lanez, 29, has pleaded not guilty to the allegations and has been scheduled for a trial on April 5.
Megan Thee Stallion, Rihanna, Drake and Ciara's reps have not confirmed the reports themselves or through their reps.
See fans reactions below.
I really wanna know the tea on why everyone decided to unfollow Megan thee stallion last week… because Rihanna, Drake, Ciara, Teyana Taylor and etc unfollowed her and there's no story behind?! pic.twitter.com/0o4mfoWdCC

— Sweet Love✨ (@NotoriousNichie) March 17, 2022
Rihanna, Nicki, Kylie, drake unfollowed megan.. Fornite removed her song from the game and Rihanna removed her from her site.. megan thee stallion is literally over like im not even joking 😭

— SNS 🇺🇸 (@Snshores) March 17, 2022
Let us know your thoughts @CapitalXTRA